Scott Aukerman Did a Facebook Q&A Against His Will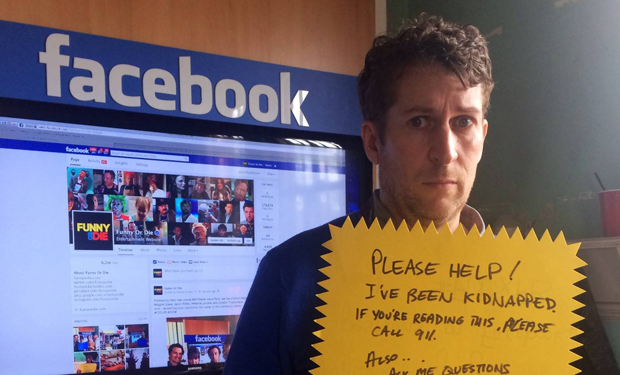 Posted by Cher Martinetti on
Comedy Bang! Bang!'s  Scott Aukerman did a Q&A on Facebook (possibly against his will, as the image above shows) while at SXSW. You can read the full session here. Some of the highlights:
1. How do you juggle work and family?
This is a great question… it's so hard in this day and age to truly find the right balance of– hey wait, that's an inside joke from my show!!!
---
2. What is your favorite Mr. Show memory? Taint misbehavin was a work of art. "Let's get the kid high."
Every day was so fun… the craziest day was when we had both Tibetan monks, donkeys, and a bunch of people dressed like Hitler on set.
---
3. Cyrus or bieber?
To have sex with? Cyrus, I guess (Billy Ray).
---
4. Will you make your own video for Batdance, please?
This seems like a good use of my time, so yes!
---
5. Are you circumcised?
One of my penises is.
---
6. How did you and Reggie come to work together and who is a better singer?
Reggie is obviously a better singer… I met him at a comedy show, and we liked each other, so I asked him to be on the show! Obviously it was more complicated than that, but that's all I have time for!
---
7. When's the last time you took a nap in Reggie Watts' hair?
We're ALL in Reggie's hair… it's a pocket universe
Follow on Twitter and Facebook for updates and nuggets of goodness.