6 Degrees of IFC: Connecting Kumail Nanjiani & Jeff Bridges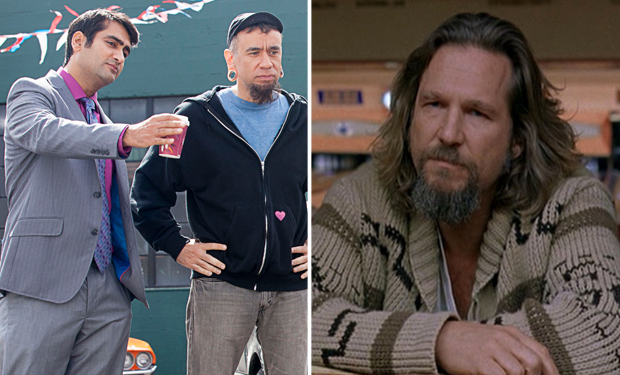 Posted by Cher Martinetti on
You know the six degrees theory. Everyone or thing is connected to each other (and Kevin Bacon) by six steps or fewer. Being the highly scientific people we are, we're putting the theory to the test by finding how Jeff Bridges is connected to Kumail Nanjiani.
1. Kumail Nanjiani
Sure, he's the person you would never want to buy a cellphone from on Portlandia. He was also in Five Year Engagement with Chris Pratt:

---
2. Chris Pratt
One of our favorite perennial goofballs played a different kind of ball..er. Cast as Scott Hatteberg in Moneyball, he brought the former Oakland first baseman's game changing home run to the big screen. Also in that movie, a guy named Brad Pitt:

---
3. Brad Pitt
Before he was Billy Beane, he was swapping sarcastic one-liners with George Clooney in Ocean's Eleven.

---
4. George Clooney
The actor nabbed a Golden Globe for his role in the Coen brothers' O Brother, Where Art Thou? In it, John Goodman plays a bible salesman that kills his toad/brother. Because reasons.

---
5. John Goodman
We're not sure mentally unstable is the right nomenclature. Walter Shoback is the bowling-obsessed, aggressive Yin to The Dude's stoner Yang.

---
6. Jeff Bridges
The Dude himself. Possibly Bridges's most iconic role, The Dude is practically a caricature of the of the actor himself. In fact, Bridges even wrote a book somewhat paying homage to the character.