Seth Herzog on His Awkward Dog Shelter Performance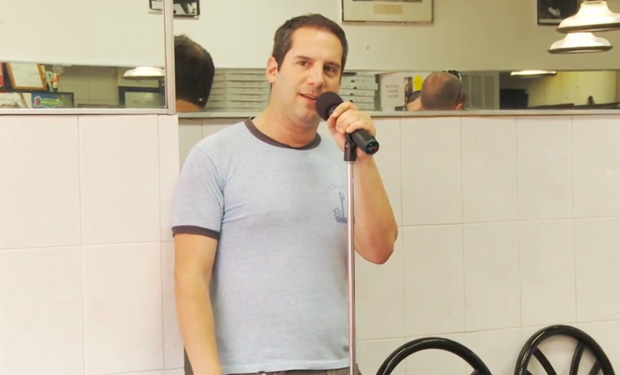 Posted by Vincent Genovese on
Seth Herzog currently holds the cushy gig of opening for Late Night with Jimmy Fallon. To bring him back to earth, IFC had Seth perform in a New York City pizzeria for our new web series Comedy Drop. Unsurprisingly, the comedian was skilled enough to pull off the guerrilla-style gig unscathed. To find out how Seth was able to get his comedy to that level, we interviewed him about his process.
Aside from Comedy Drop, where was the strangest—or most interesting—place you've done stand up?
I once agreed to perform at a benefit for stray dogs that need rescue. There was no stage, no mic, no amp. Just people talking loud [and] standing around a dog shelter, which smelled exactly the way you'd imagine. First of all, performing without a mic doesn't help, and having everyone standing isn't a bonus, but having a several dogs barking and howling interrupting your set pretty much nails it. The dogs were getting many more laughs than I was.
Where was the first place you ever performed?
My 5th grade talent show. I didn't feel like doing something with other people (ie: figuring out an idea, organizing rehearsals, etc.) So I memorized some jokes from side two of Steve Martin's Let's Get Small. It was his least popular comedy album, and I figured if they heard it, they may not have gotten to side two. I didn't even get why half the jokes were funny (and apparently neither did my follow elementary students). Either way, it was a great experiment in just getting up by myself and being funny for others.
Performing in front of crowds—especially ones not expecting comedy—has to be tough. Do you have any rituals to shake pre-show jitters?
When I'm particularly nervous, I'll walk out into the audience and touch each audience member on the face for 5 seconds, while my eyes are closed. Just to create a connection with each person. Then I leave the stage for several seconds or minutes, to get my head together. Then I return to the stage, having not changed clothes or anything and talk about "who was the crazy guy who touched everyone's face?! What a freak show." It just gets me relaxed.
How do you approach joke writing? Do you hunker down and write, or does inspiration need to find you first?
I do set aside time to sit and write jokes based on ideas I think might have potential, but the best material, that often end up becoming staples, is stuff I just think of while walking or just living and then it forms the first time on stage.
Is a joke ever fully "ready," or is it always "in progress"?
Well, you are always trying to figured out the maximum amount of "funny" you can squeeze out of a concept with the appropriate wording, timing, etc. However, to keep it feeling and sounding fresh, new and alive to the audience, I'll often change up the way I word a joke just a little and sometimes it will lead to a new angle to tangent on it. So jokes can be always be [in] progress, if you want them to be.
What is the best piece of stand up advice you've ever heard?
It's about trying to write the best jokes you can, it's more trying figuring out how to be the most "you" you can be on stage, and they way you are funny in a way that no one else is, and get really comfortable doing that. That's where the magic is.
What's a joke that makes you laugh, or smile, every time?
There are so many, I may have to get back to you on that.