Kate Berlant Shares the Secret to Pre-Show Jitters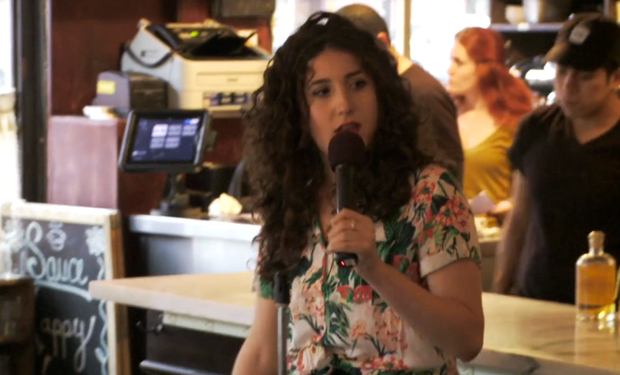 Posted by Vincent Genovese on
If you're a fan of comedy, Kate Berlant should be on your radar. Her unique, surrealistic brand of stand up has Time Out and The New York Times singing her praises, and justifiably so. In an episode of IFC's web series Comedy Drop, Kate was able to win over confused patrons of a New York city coffee shop—a tough crowd, to say the least. To see how she was able to accomplish such a feat, we spoke with Kate about her process.
Aside from Comedy Drop, where was the strangest—or most interesting—place you've done stand up?
In a warehouse to two people without a microphone.
Where was the first place you ever performed?
At my high school's blackbox theatre. I came out in a wheelchair and a kimono and did a lot of one-liners.
Performing in front of crowds—especially ones not expecting comedy—has to be tough. Do you have any rituals to shake pre-show jitters?
Organic kale and Funkadelic.
How do you approach joke writing? Do you hunker down and write, or does inspiration need to find you first?
Jokes happen if you let them.
Is a joke ever fully "ready," or is it always "in progress"?
Man is constantly in a state of becoming, as are jokes.
What is the best piece of stand up advice you've ever heard?
"All things are delicately interconnected" – Jenny Holtzer.
What's a joke that makes you laugh, or smile, every time?
Rory Scovel and Jon Dore on Conan performing their sets at the same time. That was perfect.