Brooke Van Poppelen on Performing in Strange Places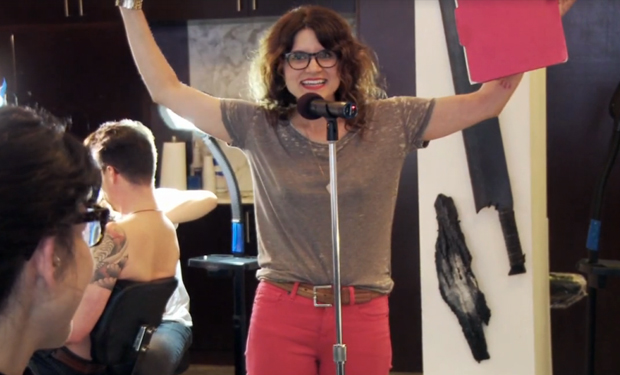 Posted by Vincent Genovese on
When it comes to comedy venues, Brooke Van Poppelen doesn't discriminate. She's performed on John Oliver's New York Stand-Up Show, in a Chicago deli and, as part of IFC's Comedy Drop web series, a New York City tattoo parlor. To find out how she's able to elicit laughter in unexpected places, we asked Brooke questions about her difficult, slightly terrifying craft.
Aside from Comedy Drop, where was the strangest—or most interesting—place you've done stand up?
Well, I hate to brag but one time in Chicago my improv team performed in a deli to a few people eating hot beef sandwiches. Then there was the time I performed at a biker bar and the "stage" was standing on the bar Pee-Wee's Big Adventure style. Luckily I didn't knock anyone's hog over.
Where was the first place you ever performed?
I tried stand up for the first time at the infamous Lyon's Den open mic on Chicago's North side in 2003. That open mic was the starting point for so many Chicago ex-pats who are all over television, film and radio now. It's pretty awesome to think about sometimes. I fell offstage and onto my back because the heel of my vintage boot broke off. The host had to help peel me off the floor. I knew it could only go up from there.
Performing in front of crowds—especially ones not expecting comedy—has to be tough. Do you have any rituals to shake pre-show jitters?
I just throw myself into situations. The more I pre-judge and overthink the worse it gets. And here's some sage advice — any time comedy is going to be competing with an unsuspecting person eating pancakes, you're definitely going to lose. So, the most important thing you can do is try to be likable and confident. Inside you're dying but you have to push through. Oh man. It hurts to think about. Comedy Drop was one of those moments.
How do you approach joke writing? Do you hunker down and write, or does inspiration need to find you first?
I am a mixed bag but I veer toward the personal because it's less likely people will have similar material to you. I just try not to tell personal stories/ jokes about stuff that happens to everyone — like, "this one time I was tired and hungry. Can you guys believe that?!"
Is a joke ever fully "ready," or is it always "in progress"?
It is always a work in progress. The hard part is admitting that it still needs work. The jokes that get a solid laugh are the hardest to work on because you"re like, eh– good enough. But why wouldn't you want to take a solid laugh and turn it into a joke that makes people have a seizure from laughing so hard? I'm lazy.
What is the best piece of stand up advice you've ever heard?
People love to give you advice in this business. There's a new list on BuzzFeed every day of "amazing advice from comedians" and it always rules. People like Amy Poehler and Louis C.K. are people I am going to listen to when they dish advice. They're so good at it.
I was thinking I'd like to give some advice if that's cool. And it's something that I tell myself when I am auditioning and trying to get "next level" work to land. I think you have to dream big and visualize and fantasize that you are going to get that job or get that part every single time you go into something. You bring great energy to the table when you do. It's learning to not care when you don't get it and have a really quick recovery time from that. I used to get so crushed when I didn't get something and would let that flavor my attitude while auditioning. I would bring an energy like "Why would they cast me? This role is too big for me and I never get anything anyway. This is what I get for dreaming. Dumb me. " Ugh.
Get excited that you are asked to audition for anything, bring that vibe with you and then immediately let it go the minute it's over.
What's a joke that makes you laugh, or smile, every time?
There are so many jokes I love to hear from my comic friends. My favorite is when comedians actually shut the hell up and stop looking at their own notebook for a second because we know that so and so is about to launch into one of their best jokes. We all nudge each other like "here it comes!" That is commiserating at it's best. I was performing on Greg Barris' awesome show Heart of Darkness last week and while Jim Gaffigan makes me cry with laughter all the time, he told a joke about car service in NYC that made me spit out some of my drink. He expertly imitated how you call, don't even say anything and the guy immediately says "5 minute" then hangs up. Jim is like "hello? are you even going to ask where I live? And somehow they still show up." I lost it. It's hilarious because it's a really specific, geographic experience. Only in NY, right?