Chris Gethard on the Best Comedy Advice He's Ever Heard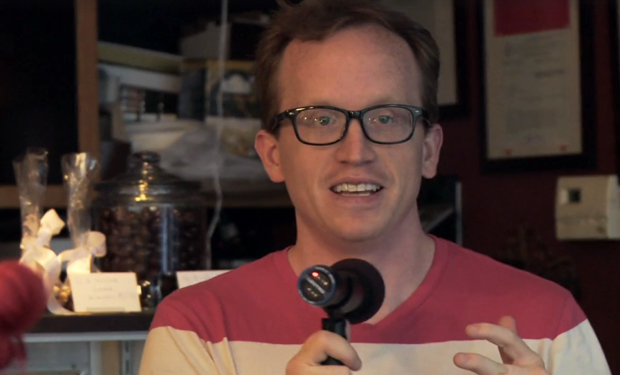 Posted by Vincent Genovese on
As any comedian will tell you, getting laughs on stage is no easy feat. But getting laughs in a coffee and crepe shop? Unless you're good—no, make that great—it's next to impossible. For IFC's web series Comedy Drop, Chris Gethard was able to pull it off. To find out how, we spoke with Chris about joke writing, dealing with nerves and the best comedy advice he's ever heard.
Aside from Comedy Drop, where was the strangest—or most interesting—place you've done stand up?
I'm a fan of music and have become pretty locked in with the local punk scene, and have been asked to host a number of music shows as a comedian. This is fun, but it's also tough because no one really wants to listen to a comedian at a rock show. I hosted a show for WFMU once – and WFMU is definitely a literate, smart, laid back crowd – at the Bell House. They went ape shit on me. One guy stood four feet in front of the stage and every time I tried to speak shouted the words "PLAY FUCKING MUSIC." These were like, dorky record collector types. I couldn't believe they had that much rage in them.
Where was the first place you ever performed?
I'd been doing improv and sketch for years, and my friend Joe Mande started pushing me to try stand up. He invited me to do his show down at Riffifi, which was a great bar that had stand up shows every night. It was a really fantastic place to perform. I felt safe there, and knowing my friend Joe was hosting the show and looking out for me made me feel okay about it, though I was intensely nervous.
Those nerves reflected themselves in a specific tick – for some reason, I kept putting my hand in my back pocket. It was a compulsive fear based thing, I didn't realize I was doing it. The jokes went okay – it was my first time, so they weren't good by any stretch, but I didn't feel awful about it.
My friend Joe got on stage and immediately started tearing me to pieces for putting my hand in my pocket. He riffed for like two straight minutes on what I possibly could have been doing – had I lost the punchlines to my jokes back there? Was I picking something out of my butt? His improvised commentary on my physical demeanor on stage got roughly 100 times more laughs than any joke I actually told.
I didn't do stand up again for like eighteen months.
Performing in front of crowds—especially ones not expecting comedy—has to be tough. Do you have any rituals to shake pre-show jitters?
At this point, I am happy to say I'm at a place where I can remind myself that nothing really matters and failure is fun. I both succeed and fail on stage on a regular basis, and I honestly think being met with silence is a fun process and I know it leads to a lot of growth. So that makes jitters sort of null and void. Nothing matters.
How do you approach joke writing? Do you hunker down and write, or does inspiration need to find you first?
All of my jokes are generally storytelling style, which means I usually have to live life and keep my eyes peeled for the weirdness my days throw at me. Then I go on stage and tell the stories in loose formats, keeping my ears open to what crowds respond to and seeing if my angles and opinions on those things strike a chord. Then I refine my viewpoints on them and tighten them up and look for punchlines. I really only write by getting on stage and talking and refining, as opposed to sitting down and writing. It takes a long time but it's my style.
Is a joke ever fully "ready," or is it always "in progress"?
Always in progress. I have an improv background, so I'm always really happy to cut and run and look for new punchlines along the way.
What is the best piece of stand up advice you've ever heard?
There's so much advice that goes so far, both from people I actually know or just by knowing my history and hearing stuff passed down through generations. Here's one that actually had a profound effect on me: Mike Birbiglia recently told me to start with the joke. That sounds simple, but for a storyteller I'm always slogging through exposition. That's sometimes how idiotic I am. "Oh right, start with the funny part and they'll get hooked in sooner. Makes sense." But you do build these jokes that have all these moving parts, and you think people need to know all this context to understand, and they don't. Really if you can get them laughing, they'll then buy into the context. Start with the context and you might lose them before you get to the joke. Reading this back makes me realize how much I should already have known that, but I've been writing more complex stories lately and getting tangled up in them. Mike is easily one of the best storyteller comedians out there and he saw it, pinpointed it, and handed me a note that is going to save me months and months of figuring out why I can't get jokes as tight as I want them.
What's a joke that makes you laugh, or smile, every time?
The Louis C.K. "Give Me Back My Jacket" joke always gets me. I would love to be able to tell a story this well.