Chris Gethard Recaps His Adopt-A-Comic Experience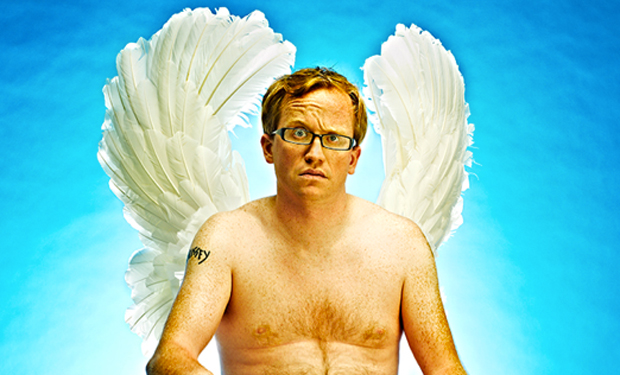 Posted by Chris Gethard on
My time with the IFC Adopt-A-Comic program has come to a close, and I want to thank everyone who helped make it happen. It was a fun, strange year and it has meant so much to me to be part of the IFC family. I think IFC is doing some of the most innovative programming in the world of comedy, and to be included as a small part of that has been humbling to say the least.
Here are some lessons I learned during my time as IFC's Adopt-A-Comic:
1. More people will take something free just to have something free, even if it is a headshot with a random quote on it.

It makes no sense that so many of you asked for these. I promise, I am still getting them all out in the mail. I even had our intern on The Chris Gethard Show make out all the envelopes and put all the stamps on them and it's still taking me forever. It's overwhelming and terrifying and while I wish I hadn't made the offer since it eats up so much of my time, I'm also flattered to know so many of you guys were interested in the first place. Also, I have a weird feeling my terrible headshot will hang in the homes of many strangers for years to come and that's pretty cool.
---
2. People seem to actually be fine with New Jersey.

Based on the reaction to the videos we made about New Jersey, it is clear to me that Jersey is doing better public image wise than it used to be. No one really gave two shits and it makes me think that maybe Jersey Shore and the Real Housewives actually did the place some good? I don't know. I just really like New Jersey. I have a chip on my shoulder and need to take care of it.
---
3. The Shining is a great film and a horrible experience.

When IFC forced me to live tweet The Shining, let alone in the middle of the night, I was actually and honestly furious. I do not like scary movies. We managed to make all of our interstitial videos to air during the Shining without me having seen the film. But IFC convinced me it would be funny to see the movie for the first time while sitting on the IFC Twitter account. It was funny to some, but really chilling and awful for me. I was alone when I watched it. I actually had someone unfollow the IFC Twitter account because I was tweeting out so much profanity. Also, a bunch of film bloggers started criticizing me for watching the film the first time while tweeting, which was a perfect combination of condescending and hilarious to me. Anyway, I didn't make it all the way through the movie and I don't think I ever will. I get that it's great, but I don't need those images in my head.
---
4. The ALF movie is a dream that could possibly come true.

I will not quit on this dream. Thank you all for your help on this one – every time we push the Alf button, people mobilize online and make hilarious gifs and posts and stuff – it's really funny and the punchline can only be me making a cameo appearance in what promises to be an Oscar winning film.
---
Anyway, thanks again to everyone who enjoyed the stuff we made as part of this program. It was really fun to be able to throw ideas out into the world just to see what would happen. It's not always easy being kind of a weirdo, and the fact that IFC was willing to give me a home and some breathing room to grow as a performer will always mean a lot to me.
I'd like to specifically thank J.D. Amato and Sady Cohen for all of their help. Sady produced a ton of the content we came up with and made so much of it happen. She was also the one who thought of making me live in a trailer in a couple's backyard during South by Southwest which was surreal and fun and which I already remember as one of the best weeks of my year.
J.D. works with me on tons of my stuff and is the brains behind The Chris Gethard Show, these videos, and so much more of my creative output. He makes it all happen and I am fairly certain that in the coming years he is going to take over the world and people are going to say "Why did that guy waste so much time working with Gethard?" He is a good friend, a trusted confidante, and a brilliant creative mind.
I hope you enjoy the final Adopt-A-Comic videos. JD said he wanted to really push Alf one final time and also put out some behind the scenes footage that would show "What it's really like to make an Adopt-A-Comic video with Chris Gethard." I hope you enjoy this glimpse into the creative process behind our work as much as I enjoyed putting in the work. I have the honor and privilege to work with tons of hilarious, hard working folks, both on and off camera, and consider myself blessed for the opportunity.
Thanks IFC family, for everything.