15 Incredible Facts About The Three Stooges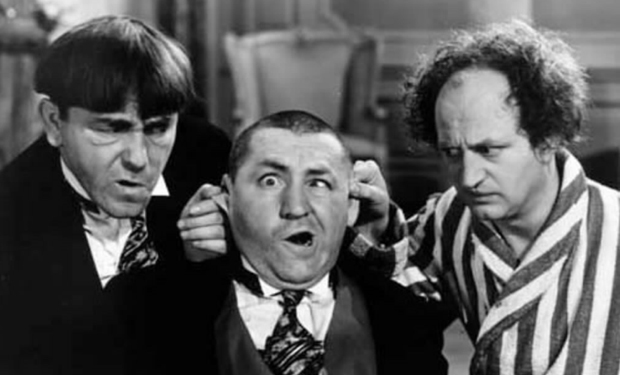 Posted by FIX Staff on
Saturday mornings on IFC, you can watch Three Stooges marathons featuring amazing facts courtesy of Mental Floss and their Amazing Stooges Fact Generator. During each episode incredible facts about the trio will appear on screen, facts like the examples below. Read on. You just might learn something.
1. Stooge productions were thrifty.
Their sets were often leftovers from feature films.
---
2. Curly was an accomplished dancer.
He often cut rugs at Brooklyn's Triangle ballroom.
---
3. Only one short features all four Howard bros.
Curly cameos as a sleeping train passenger!
---
4. Curly's running-in-circles move as improv.
He used it when he forgot his lines!
---
5. Moe never heard his own slaps.
The sounds weren't added until filming ended.
---
6. The Stooges gave Lucille Ball a big break.
1934's Three Little Pigskins was one of her first roles.
---
7. Curly Joe was a former child star.
He started out in Vaudeville when he was seven.