Thar She Blows: 10 Terrible Movie Ships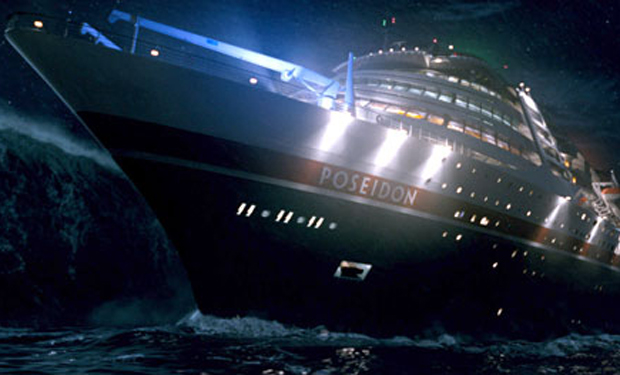 Posted by Evan Saathoff on
The original Poseidon movie inspired drag queens to dress up like Shelly Winters, The New York Times chief theater critic, and the 2006 remake, which just happens to be on IFC tonight. In honor of the film, we've compiled a list of 10 vessels you might want to avoid. So pull out your galoshes and get ready for some water sports.
1. The Titanic – Titanic


The mother of all doomed ships also inspired the mother of all doomed ship movies, as well as the mother of all sad songs about hearts going on.
---
2. The MS Poseidon – Poseidon


Both Poseidon and the original Poseidon Adventure deal with a massive luxury cruise ship which flips upside down, slowly filling with water as those still alive scramble for survival.
---
3. The Orca – Jaws


When dealing with an evil great white shark, it's okay to admit that you need a bigger boat. And maybe don't intentionally destroy the radio while you're at it.
---
4. The Andrea Gail – The Perfect Storm


Economic pressures push this boat's crew to drive directly into a massive hurricane where they all meet their demise. Sadly, this one's based on true events.
---
5. The U-96 – Das Boot


Wolfgang Peterson directed a lot of scary boat movies. This one supplies reason #2,381,922 never to get on a submarine.