10 Great Music Videos Hijacked by Comedians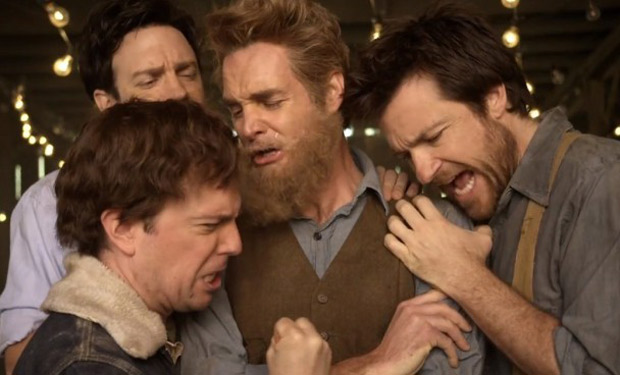 Posted by David Wolinsky on
6. Conan O'Brien and White Stripes' "Denial Twist"
Jack White and Conan O'Brien have always been frequent collaborators. But leave it to director Michel Gondry to make their fondness for one another feel alienating, tripping, and thoroughly un-groovy.
---
7. Chevy Chase and Paul Simon's "You Can Call Me All"
Try not to smile with this Graceland classic. Two amigos in their prime.
---
8. Marc Maron, Tim Heidecker, James Urbaniak, Andres DuBouchet, Ellie Kemper and Nick Lowe in "Sensitive Man"
Tim Heidecker takes Marc Maron to new levels of intimacy and friendship with his fellow men. They exude a rainbow glow. It's still far less awkward than your typical episode of "WTF."
---
9. Jon Glaser and The Black Keys' "10 A.M. Automatic"
"Delocated"'s Jon Glaser does his best to stay awake while the blues duo jams away for a local-access senior-citizen audience. This is what rock 'n' roll is all about, people.
---
10. Aziz Ansari and Jay-Z and Kanye West's "Otis"
Oh, the shenanigans they must have enjoyed off-screen. We need outtakes ASAP.
---
What is your favorite comedian take over video? Tell us in the comments below or on Facebook and Twitter.