10 Great Music Videos Hijacked by Comedians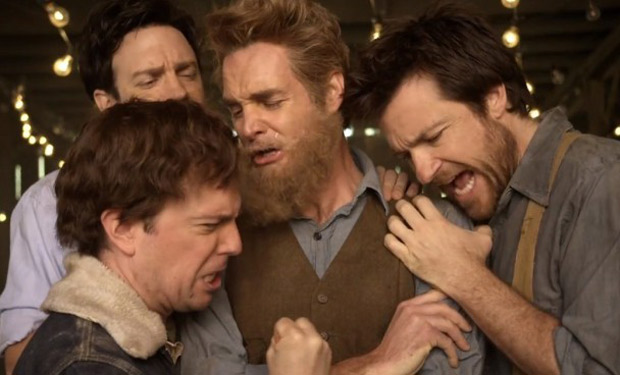 Posted by David Wolinsky on
No doubt the new Mumford & Sons video is the viral sensation of the week. Take that Peyton Manning! Of course it isn't the first time comedians have hijacked music videos. Here's a look back at our 10 favorite comedy-music mash-ups to keep your week moving. Toe-tapping, even dancing, is encouraged.
---
1. Zach Galifianakis and Kanye West's "Can't Tell Me Nothing"
You've no doubt heard how the camera adds 10 pounds. But did you know if you're a rapper it can also make you look like self-deprecating absurdist?
---
2. Patton Oswalt and The Coup's "Magic Clap"
A nerd-approved comedian teaming up with a political-minded hip-hop group is just two great tastes that taste great together, plain and simple.
---
3. Kristen Schaal and The National's "Conversation 16"
Not so much a cameo but a starring role exploring where her "30 Rock" character Hazel Wassername's megalomania might have taken her from the White House and beyond. (Also, hey, Roger Sterling!)
---
4. Reggie Watts and Hot Chip's "Night & Day"
This video has everything: Strutting monks, dancing beefcakes, and Reggie Watts finally looking like the most normal person in the room.
---
5. Julie Klausner, Wyatt Cenac, Horatio Sanz, John Oliver, John Hodgman, Bill Hader, Todd Barry, Donald Glover, Esther Crow, and The New Pornographers' "Moves"
Just in case there was any lingering doubts whether comedians all want to be rock stars.