What to Watch This Week: July 29 – August 4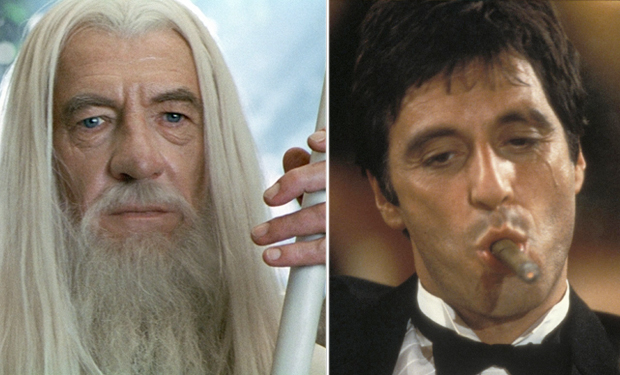 Posted by Melissa Locker on
Monday
Do not pass go, but head directly to Middle Earth tonight at 6/5c or 9:45/8:45c with a double feature of The Lord of the Rings: The Two Towers. Watch hobbits Frodo (Elijah Wood) and Sam (Sean Astin) try to destroy the One Ring. And don't miss Gandalf the Grey (Ian McKellen) lighten up as he becomes Gandalf the White.
Tuesday
Brian De Palma's classic Scarface tonight at 8/7c. Enough said. Follow the rise and fall of Al Pacino's Tony Montana, a Cuban immigrant from Castro's jails who comes to America for a better life and ends up as the top man in a Miami drug cartel. It's like if The Godfather did a whole bunch of cocaine and re-did its interiors in gold and white tiger pelts. Can't make it at 8? We're showing it again at 11:45 p.m. ET.
Wednesday
Cannibalistic mutants. Demented killers. Scalp-loving doctors. A double feature of terror tonight starting at 8/7c. First up is Rob Zombie's House of 1000 Corpses followed by The Hills Have Eyes 2 at 10/9c, where cannibalistic mutants attack National Guardsmen (Michael McMillian, Jessica Stroup, Daniella Alonso) who are investigating a distress signal in the New Mexican desert.
Thursday
It's a miracle! The Green Mile starts at 8/7c. Michael Clarke Duncan is a death row inmate who has the supernatural ability to heal others. Tom Hanks stars as the prison guard who starts to believe in his powers and his innocence.
Friday
David Cross visits the set this week on an all-new Comedy Bang! Bang!. His interview is hijacked when Bob Odenkirk shows up as a Deputy Marshall on a mission. Look for guest appearances by Will Forte, Tim Meadows and "Weird Al" Yankovic when you tune in tonight at 10/9c.
Saturday
This Saturday see two of the "worst ways to die" during the BuzzFeed Block. The dying begins at 8/7c with Poseidon and Cabin Fever back to back. Don't miss BuzzFeed's list "The 15 Worst Ways to Die".
Sunday
How often do you get to spend Sunday with Kurt Russell and Wilford Brimley? Not enough. Watch The Thing at 4:15 p.m. ET and see the bros battle a monstrous alien who can take on the body of anyone it engulfs.
Want the latest news from IFC? Like us on Facebook and follow us on Twitter@IFC