Watch Fred Armisen, Amy Poehler, Jason Sudeikis and Maya Rudolph on Hollywood Game Night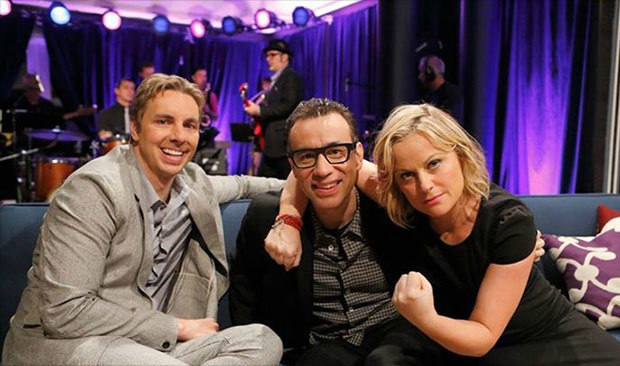 Posted by Melissa Locker on
Last night, there was a mini-Saturday Night Live reunion on the couches of Hollywood Game Night. It was Fred Armisen, Amy Poehler and Dax Shepherd vs. Jason Sudeikis, Seah Hayes and Maya Rudolph and her unborn child. The two teams faced off in a friendly competition hosted by Jane Lynch.
The show, reunited Fred with Hayes, who you may recognize from the good art, bad walls guy sketch from Portlandia and a little show called Will & Grace. Hollywood Game Night, which was created by Hayes, who apparently hosts his own game nights, involves two teams competing against each other in with the winnings all going to charity. True to the name, all the games are Hollywood-themed – like putting photos of celebs in chronological order – which serves as a meta entertainment as the stars assess their own kind and it just adds to the fun. The show is based on a simple premise – and frankly we've never watched the show before – but in the hands of the cast members of Saturday Night Live it becomes a night of laugh-out-loud entertainment that almost makes us want to host our own game night, even though there's no chance that our friends are nearly as funny as Jason Sudeikis, Amy Poehler, Maya Rudolph and Fred Armisen.
Want the latest news from Portlandia? Like them on Facebook and follow them on Twitter@IFCportlandia and use the hashtag #portlandia.
Portlandia returns to IFC in early 2014