The Ultimate Comedy Fantasy Weekend Starts Thursday on IFC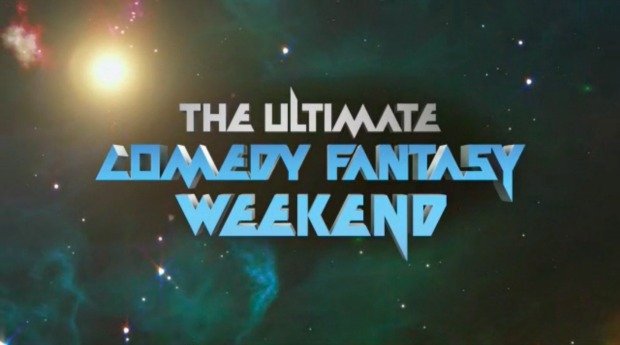 Posted by Melissa Locker on
Look! Up in the sky! Those fireworks aren't marking our nation's independence, they are alerting you to the fact that this Thursday we're kicking off the Ultimate Comedy Fantasy Weekend. That's right, this weekend's the festivities don't have to end when the rocket's red glare fades from the sky, in fact, the fun is just getting started! Our Ultimate Comedy Fantasy Weekend is so big it can't be contained by a measly Saturday and Sunday, so we're kicking things off on Thursday with a National Lampoon movie marathon and ends on Sunday with back-to-back comedies like Arrested Development and Portlandia with hours of laughs in between. Remember, there's no better way to work out your abs than with belly laughs.
Here are some of the highlights to watch this weekend on IFC, but check the schedule for full listings:
Thursday
Tune in at 8/7c for "Kick-Ass," a film that totally lives up to its name. Despite a complete lack of extraordinary powers, a teenager (Aaron Johnson) reinvents himself as a superhero and, together with a father/daughter team of vigilantes, takes on a mob boss.
At 10:30PM it's Broken Lizard's Club Dread where a killer terrorizes vacationers and staff members (Jay Chandrasekhar, Kevin Heffernan) at a Caribbean resort owned by a has-been rocker (Bill Paxton).
Friday
At 3:45p.m., we're showing Robin Hood: Men in Tights. This updated classic stars Cary Elwes as the infamous Sherwood Forest archer who leads his merry mixed bag of outlaws against Prince John (Richard Lewis) and the Sheriff of Rottingham (Roger Rees).
Then at 8/7c it's Undercover Brother starring Eddie Griffin as a low-rent private detective who poses as a preppy nerd in order to foil a plot by conspirators.
Saturday
Tune in at 4/3c to watch as the brave puppet commandos of Team America: World Police protect the planet from fiendish terrorists and North Korean dictator Kim Jong Il (Trey Parker).
Then stay tuned at 6/5c, for National Lampoon's Adam & Eve, starring Cameron Douglas as a college senior who finds his patience tested when he learns his beautiful new girlfriend (Emmanuelle Chriqui) is a virgin. The men of Porky's can't relate since they are spending their time spying on girls and getting even with the owner (Chuck Mitchell) of a raunchy bar in 1950s Florida. Tune in at 8/7c for your daily dose of raunchy college comedy.
Sunday
Watch back-to-back-to-back episodes of Malcolm in the Middle(9am/8am c), Arrested Development(starts at 12/11c),Portlandia (starts at 3/2c) and Comedy Bang! Bang! all day, because you've earned it.
video player loading
.
.
.
Want the latest news from IFC? Like us on Facebook and follow us on Twitter@IFC