The To Do List Review: Pretty Raunchy, Only Kinda Funny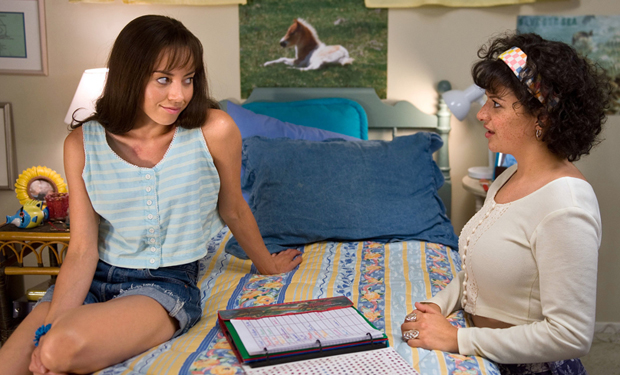 Posted by Tim Grierson on
In The To Do List, it's as easy to root for Brandy as it is to cheer on the actress playing her. Starring Aubrey Plaza, this sex comedy follows Brandy as she graduates valedictorian from her high school in 1993, preparing for college and a seemingly bright future. But there's one problem: The mousy gal is a virgin, and after being scared by her sexually assertive older sister Amber (Rachel Bilson) into believing that her lack of experience will be a major obstacle at school, Brandy makes it her mission to spend the summer making up for lost time. However, because she's nerdy, that means putting together a thorough list of every different sexual encounter imaginable, including "motorboating" (she has no idea what that means), hand jobs and, eventually, penetration. Though that sets the stage for all sorts of spirited hijinks, Brandy adorably proceeds about her quest with the same bookish studiousness she would a homework assignment.
Rated R and determinedly raunchy, The To Do List is like other recent teen sex comedies (American Pie, Superbad) in that its seemingly shocking subject matter is really a front for a sweeter, more sensitive core. Written and directed by first-time feature filmmaker Maggie Carey, the movie doesn't want to turn Brandy into a slut as much as it wants to show how young women can be tripped up by equating sex with love, acceptance and approval. Surrounded by dumb jocks (Scott Porter, enjoyably going full mimbo), loser burnouts (Bill Hader) and sensitive guys-next-door (Johnny Simmons), she remains a likeable, albeit confused kid trying to negotiate choppy waters.
It's a godsend having Plaza in the role. Best known for her ultra-dry, deeply sarcastic character April from Parks and Recreation, the actress has established a no-nonsense persona that helps sells Brandy's cool intelligence, but The To Do List also allows Plaza to be warmer and more vulnerable than her sitcom character. (It's a good bet that April would never stop rolling her eyes at Brandy's cluelessness.) Carey tries to upend a few teen-comedy gender stereotypes, but one she holds onto is the myth of the beautiful geeky girl who wows all the guys once she takes off her glasses and lets down her hair. In "The To Do List," that means having Brandy enchant all those around her by cavorting in a swimsuit as a lifeguard, and it's to Plaza's credit that she sells the character's klutziness as much as her attractiveness. This is a charming, self-deprecating turn that mostly finds the balance between the humane and the humiliating.
Unfortunately, the movie as a whole isn't nearly as nimble. The To Do List basically plays by the same rules as previous sex comedies, and its attempts to be truly transgressive are either tiresome or just flat-out disgusting. (Consumer alert: A gut-churning poop joke awaits you.) And predictably, the movie ultimately falls back on the notion that, deep down, everyone's just looking for someone to love: Blowjobs and masturbating are all well and good, but if you're the main character in a comedy, you still need to end up with a suitable partner. Those who came of age in the early '90s will no doubt be sucked in by the movie's wall-to-wall nostalgia — Trapper Keepers! Girl vests! — but there's also a danger in playing on our fondness for that bygone era. As someone as nerdy as Brandy when it comes to proper chronology, I immediately noticed that Pavement's "Cut Your Hair" couldn't have possibly been playing at the time of the movie — it came out a year later. No wonder I graduated from high school a virgin myself.
You can follow Tim Grierson on Twitter.