The 10 Best Steve Carell Performances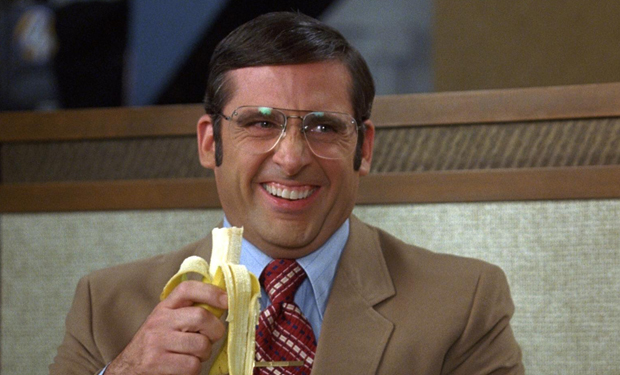 Posted by IFC on
By Evan Saathoff
We all love Steve Carell, even when he's bald and animated and robbing us of our moon. The sweet, funny, and occasionally mean actor has worn a lot of hats since becoming a star almost a decade ago with The Office. In honor of Despicable Me 2 (in theaters today) we look at the comedy actor's ten best roles to date.
1. Brick Tamland – Anchorman: The Legend of Ron Burgundy
Who doesn't love a mentally challenged weatherman? In this now classic comedy, Carell's Brick Tamland proves that you don't need brains to be a meteorologist in the 1970s. You also don't need brains to stab a man to death with a trident.
---
2. Andy – The 40-Year-Old Virgin
This crude comedy was one of the Steve Carell's first roles to explore his unexpected sweetness. Like all Judd Apatow comedies, The 40-Year-Old Virgin is just as much about heart as it is laughs, but none of the film's charm would have worked without Carell's nerdy vulnerability. Carell also helped write the film.
---
3. Cal Weaver – Crazy, Stupid, Love.
Despite the bizarrely punctuated title, this sweet, two-tiered love story finds Steve Carell at his most downtrodden and adorable. Even people who despise romantic comedies should enjoy Carell's down to Earth performance, which ties Ryan Gosling's abs when it comes to this film's greatest asset.
---
4. Evan Baxter – Bruce Almighty
Before taking the lead and growing a white beard long enough that it would shame both Santa Clause and Gandalf the Grey in Evan Almighty, we first met Steve Carell's Evan Baxter as a smug reporter in Bruce Almighty. And while it may not be his movie so much as Jim Carrey's, it's nice to have a bit of Carell villainy on the list to help balance out all his "nice guy" roles. It's a character type he excels at but rarely gets to show off.
---
5. Gary – The Ambiguously Gay Duo
A lot of people don't know that Steve Carell has a little superhero experience on his resume thanks to this reoccurring Robert Smigel cartoon. For those in the dark, The Ambiguously Gay Duo highlights the crime fighting adventures of Ace and Gary (voiced by Stephen Colbert and Steve Carell, respectively), two superheroes who love fighting crime almost as much as they love each other.