Scott Aukerman Talks Comedy Bang! Bang! Season 2 and His "Rivalry" with Zach Galifianakis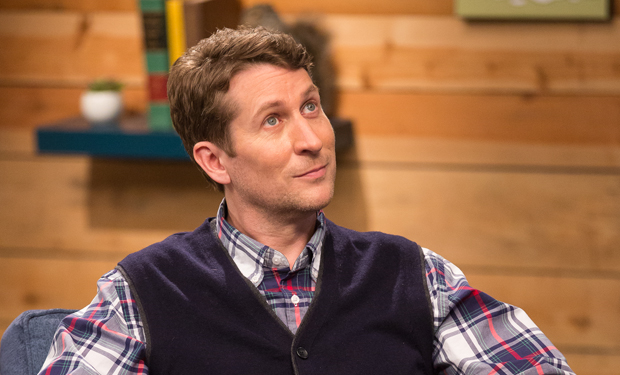 Posted by IFC on
By T Sahara Meer
Well, Christmas in July! At least that's how we're feeling today, on the eve of Comedy Bang! Bang!'s return to IFC tomorrow at 10/9c. And like Santa in his workshop, creator/host Scott Aukerman has been carefully crafting Season 2 for the enjoyment of boys and girls all over the world — and the best part is, he doesn't give a damn who's naughty or nice. Incredibly, we were able to catch up with the uber-busy Aukerman — actually, it wasn't that hard, he's been on a media blitzkrieg all week. But before you get your chance to ask him all sorts of ridiculous questions yourself during his Twitter Q & A tomorrow at 9:30 PM ET/ 6:30 PM PT, we wanted a crack at him first. So read on, Bang! Bang! fans, and then just one more sleep until the big day…
What new things can viewers look forward to seeing on Season 2 of Comedy Bang! Bang!?
You know when IFC came to us and said you can make new episodes, that was the first thing we decided to do — to make them new. We decided not to just rerun the old ones. Practically, every frame is new this year. Although, sometimes we did get a little lazy and were like, "Let's just throw some of the old frames in there." But practically every word that we say is new. And when I say that, I mean we're creating new words on the show this year. We decided not to be lazy and use any word that we used last year. So if you hear us use a word that we used last year — if you catch us because we slip up — then you can win 80 brand new Hyundais. Some contests only give away one car, we're giving away 80. Pretty exciting.
Is it revealing too much to tell us some of the new words that you've created for Season 2?
Well, we use "flanderfoodle" once. You see, once we use a new word, we can't use it the rest of the season. So something like "farfenoogle" — which we were so excited about when we came up with it — because when you hear it, it just so accurately reflected what was going on. It's like when you come up with a word like "Kleenex." And it's like, "Yes! I'm going to blow my nose into a 'Kleenex' — of course I am!" It just fits, you know. So when we came up with that word that we came up with, we were like, "Oh, this is so perfect for what is happening right now." But, then, we can't use it again. So when we felt that way again, we had to come up with something new like "brackenbrickle" — and it just wasn't the same.
If you had to pick just one, what would your favorite moment be from Season 1?
I really like the final episode, the green screen episode. That's one where we got a little bit crazier and had a huge concept for the show. I think that in Season 2, we're going to be doing a lot more stuff like that. Just the fact that we were able to do 20 episodes, we were able to stretch out and really tackle some bigger ideas this year. And also some weightier topics. In the conversations this year, some really heavy stuff comes up. Who's right? Who's wrong? I'll let the viewers decide. They can sound off on their Twitter and leave their comments below.
How has your relationship with Reggie Watts evolved in your time working together on the show?
I think it's deepened. I think that the emotional exercises that we do before taping the show where we sit and face each other and touch knees — it goes without saying that we take off all of our clothes before we do this — and we gaze into each other's eyes and we tell each other what we appreciate about each other. You can't do that with a person without feeling closer to them. It's much like in Cat's Cradle, touching feet. We don't go that far because feet are disgusting. But it's been this thing where we have developed a real friendship, not just a TV friendship. In Season 2, you can tell in the first couple of episodes, it's still just TV friendship. But then there's this moment in Season 2, when it's like boom!, all of a sudden: real friendship — and I hope that viewers can tell exactly when that is.
The new promos for Season 2 feature the tagline "the ultimate comedy fantasy" with you as a centaur and Reggie riding your back. Has that been a fantasy of yours?
Well, that's not fantasy. That's reality. We had to shoot that for the poster. I had to remove my glamour which prevents human beings from seeing me as a centaur and reveal my true self to the world. But Reggie and I have gotten close enough where he felt comfortable getting on my back. So it's not really a fantasy at all. My fantasy is to appear as a human. That's why I purchased that expensive glamour from a witch. So I'm living out my fantasy every day, but the reality is that I'm just a dirty, gross centaur.
Prior to Comedy Bang! Bang!, you were more of a behind-the-scenes guy (writing, producing). How has your life changed since becoming a TV star?
Yeah, I hated being in the scenes. I wanted to stay behind them. But there are all sorts of perks you get as a celebrity. There's a celebrity internet, that only celebrities are allowed on. You have to type in wingdings. It's a little bit harder, but it's so exclusive. Oh, and the other issue with it is when you log on, it's dial up. So it's a pain in the ass, really, but the exclusivity of it just feels so damn good. And, you know, having every human on earth recognize me when I go out on the street can be a little distracting. Especially for them, because any city I travel in, work stops. Everyone puts down their protractors and their jackhammers — I think I just covered both ends of the job spectrum with those two items. [Laughs] But, really, they just sit and stare at me, mouths agape. I'm into it. So if you see me on the street, don't try to talk to me, just sit and stare, slack jawed, at me. That's what I really appreciate. And bow. Do one of those Japanese, full bows to the waist, not just one of those tiny head nods. Have your mouth agape and bow to the waist and I will now that you are a true Comedy Bang! Bang! fan.
You created another talk show, "Between Two Ferns" with Zach Galifianakis. Is there any kind of rivalry between you and Zach about who's a better host?
I think that Zach would concede that I'm a far better host than he. What he gets in return is that he is incredibly rich and a movie star. So, we all have our specialties in life: His is being a movie star and being one of the richest men on earth, and I get to be the better host. Hey! I wouldn't trade that for the world.
You have quite an impressive array of celebrities coming up on the show — Jessica Alba, Sarah Silverman, Jason Schwartzman. How did you select your guests?
They're very lucky when they are selected. We have a randomizer. It's kind of a computer-generated number randomizer. We put every celebrity that exists into the computer and we assign them a number. George Clooney! Hey, you're number 3,487, for instance. Then we mix them all up. You never know who's going to pop out of that randomizer, but whatever number we pick, we just slot them right into the show. We were lucky this year, quite frankly, because there were some really D, E and F celebrities in that thing. But we got so lucky with who the computer picked this year. You can't imagine the celebration that went on in the office when Jessica Alba's name come up. It was like, "Oh! Oh my god. Thank goodness! It could have been Snooki."
As a writer, producer, podcaster, you seem to have worked with every comedian in Hollywood. Is there any comic you don't know but would like to meet?
I would love to have Chris Elliot on the show. I emailed with him once. His stuff on Late Night With David Letterman and his work in Cabin Boy and his books have all been great influences on me. We've tried to have him on the show both seasons and it didn't work out. I would love to have him, and I say that in utter sincerity. Last year, someone asked me a similar question and I said "Pee Wee Herman" and it came true. So, I'm just going to put it out there: Chris Elliot, come on the show!
Comedy Bang! Bang! returns to IFC on Friday, July 12 at 10/9c
Want the latest news from Comedy Bang! Bang!? Like them on Facebook and follow them on Twitter@comedybangbang and use the hashtag #cbbtv.