Bomb Squad: Why Did R.I.P.D. Tank?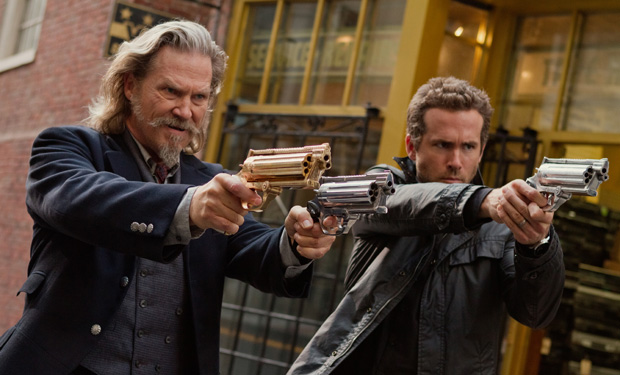 Posted by Tim Grierson on
Welcome to "Bomb Squad," a recurring column that takes a closer look at a movie that tanked at the box office and tries to figure out what happened.
From the outset, R.I.P.D. held some promise. Starring Jeff Bridges and Ryan Reynolds, and based on a Dark Horse comic book, the film was being positioned as a new version of Ghostbusters or Men in Black, telling the story of two deceased, wisecracking policemen who team up to battle runaway paranormal folks who are seeking refuge among the living. The box office results, however, were ghastly: R.I.P.D. brought in less than $13 million in its first weekend, ending up in seventh place. (Even more painful, the film is said to have had a budget of $130 million.) What exactly happened here? Let's take a look at some possible theories, some more convincing than others, and then come up with our verdict…
Theory No. 1: Ryan Reynolds can't open a movie.
In a sane universe, Ryan Reynolds would seem to be your prototypical movie star. He's handsome, he's funny, he's buff—quite simply, he simply looks the part. But when you check out his commercial track record, that's when the problems start. His biggest hit is The Croods, an animated movie where he isn't even the lead. Other movies that have performed well — X-Men Origins: Wolverine, Safe House and The Proposal — featured him in limited or second-fiddle roles. The one movie where he's really the main attraction, Green Lantern, made over $116 million but was labeled a disappointment, in part because the reviews were scathing and in part because it supposedly cost at least $200 million to make. In R.I.P.D., he's again supporting a bigger name — in this case, Jeff Bridges — but because his costar is a legend with an Oscar who seems above the messy needs of A-list stars to deliver huge box office, this new movie's failure will probably hurt Reynolds a lot more than it does Bridges. (Also tarnishing Reynolds' box-office credentials: He was the lead voice in Turbo, which underperformed this weekend as well.)
Theory No. 2: It just seemed like a Ghostbusters/Men in Black rip-off.
It's no secret that Hollywood likes to recycle successful formulas, whether that means rebooting a franchise or copying what worked in a movie from the past. R.I.P.D. clearly was targeting fans who dug Ghostbusters and Men in Black — the new film has the same smirky attitude as those venerable action-comedies — but director Robert Schwentke never could quite figure out what made the Bridges/Reynolds pairing fun. Instead, it's a lot of strained oil-and-water sparring without the clever characters that made those other franchises so breezy and engaging. Nobody would have loved Men in Black that much if it was just a bunch of nifty effects — they came for Will Smith and Tommy Lee Jones.
Theory No. 3: Nobody was familiar with the source material.
More and more often, studios are very happy to serve up movies during the summer that are based on properties you already know: Star Trek Into Darkness, Iron Man 3, Monsters University. By comparison, R.I.P.D. was almost an original idea. Sure, it was adapted from Peter M. Lenkov's comic book, but this is the first time it's been made into a film. The problem with that rationale, however, is that this summer has actually been pretty decent when it comes to first-time films. The Heat, The Croods and Now You See Me all made over $100 million, each produced from an original screenplay. There's always a market for fresh ideas, but R.I.P.D. clearly didn't qualify in the minds of a lot of audiences.
Theory No. 4: Jeff Bridges keeps doing the same shtick.
Everybody loves Bridges, and with good reason. Ever since appearing in The Last Picture Show as a fresh-faced kid, he has proved to be one of Hollywood's most enduring actors, finally winning a long-overdue Academy Award for his work in 2009's Crazy Heart. But in recent years, he's enjoyed turning out spirited, slightly nutso portrayals in films like Masked and Anonymous, Tron: Legacy and True Grit. (The height of such performances, of course, is in The Big Lebowski.) His performance as the Old West lawman Roy in R.I.P.D. is a silly twist on his drunken, ornery Rooster from True Grit, but it felt formulaic, Bridges going to the watch-me-be-kooky well once too often. It's really hard to believe that a lot of people would have stayed away from R.I.P.D. just for that reason, but it's always possible it was a contributing factor for some.
The Verdict
There are plenty of explanations for what might have contributed to the commercial failure of R.I.P.D. (For example, Universal's decision to only screen the movie the night before its release was a strong indication to the world that the studio knew it had a stinker on its hands.) But the overarching problem seems, in hindsight, rather simple: There was nothing that interesting or compelling in what audiences saw in ads that made them want to seek out this movie. Especially in the summer, a film has to offer something genuinely exciting (or, at the very least, pleasantly familiar) to get people to come out. R.I.P.D. never did that, so it's little surprise that it flat-lined.
You can follow Tim Grierson on Twitter.