Nat Faxon and Jim Rash on the Story Behind The Way, Way Back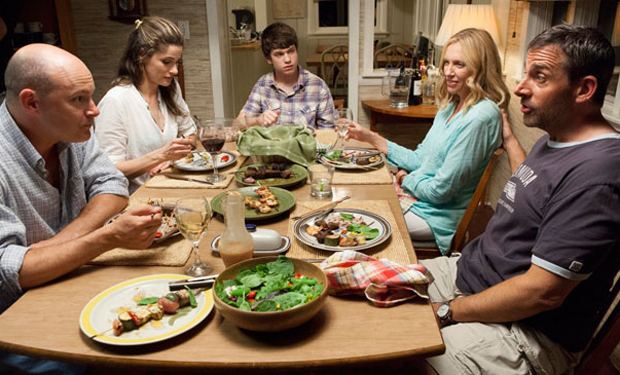 Posted by Jennifer Vineyard on
On a trip to Lake Michigan one summer, Jim Rash's stepfather asked him to rate himself on a scale of one to ten — the then-fourteen-year-old Rash thought he was a six, and his not-so-helpful stepdad informed him that he was a three. This real-life hurtful moment provides the basis for Rash's latest film, The Way, Way Back — co-written and co-directed with the Oscar winner's creative partner, Nat Faxon. (The two last paired on The Descendants).
"The very first scene in the movie is true, that horrible conversation, verbatim," Rash told IFC. "It's not like it led to this horrible summer vacation, nor did it lead to the amazing one depicted in this film, but it's about the connections we have with people, whether it's for a split second, for a summer, or for the period that they're married to your mother, and how they give you something, even if you didn't realize it at the time."
The fourteen-year-old in the film, Duncan (played by Liam James from The Killing) is offended by the ranking, which in the film is given by Trent (Steve Carell), his mom's boyfriend, in order to try to urge the teenager to get out and participate in life more often, instead of just hanging around the house, i.e. his beach house where he wants some alone time with the mother (Toni Collette) that summer. At a later point, Duncan finds a bicycle and makes his way to the other end of town, where he discovers a water park called Water Wizz, and a quirky water park manager named Owen (Sam Rockwell) who offers him a job, takes him under his wing, and gets him to, yes, participate in life.
"It's the same message, but in a more nurturing way," Rash said. "However you feel about what Trent said, Duncan took it to heart and acted on it, perhaps in rebellion, but he still did it. Sometimes someone we don't look back fondly on might have given us some words of wisdom we didn't expect. Because weirdly, what Duncan does is what both Trent and Owen were alluding to, regardless of the tact that wasn't there when Trent said it."
It took Rash and Faxon eight years to get the film off the ground — Shawn Levy (Real Steel) was even proposed as a director at one point before the pair managed to snag that job for themselves. "You have to have patience," Rash said. "Little Miss Sunshine took four years. We had the opportunity to make it fast the wrong way, but we went for the long route."
Along the way, Rash and Faxon were offered the screenwriting gig for The Descendants, based off the unproduced script they wrote for this one. (Alexander Payne's company Ad Hominem had read it, and brought them aboard to adapt its tonally similar dysfunctional family story). Still, they kept hoping to get The Way, Way Back started. Rash and Faxon cast Allison Janney as a booze-cruise neighbor first, and then started looking for the water park manager who would provide the heart of the story. Jake Gyllenhaal was considered before they found Sam Rockwell. "We met with Jake, but he didn't work out," Rash said. "But it was great to meet him and talk about it." Rockwell, however, got the inspiration of Bill Murray in Meatballs for his character right off the bat in the first phone meeting, which helped seal the deal.
And then once The Way, Way Back got its own little dose of Little Miss Sunshine casting — courtesy of Carell and Collette, now playing lovers instead of siblings, it got the needed traction as far as financing was concerned. "With Trent, we wanted to go against type," Rash said. "We wanted to be a real, true, tragic male character, not a villain. And we tried to find great and perfect people." To make it easier for Carell to accept the gig, Rash and Faxon even moved production to be near his summer home.
Although the film starts with Rash's "sad memory," Faxon said he brought "the happy ones" to the table. "I was fortunate enough to spend most of my summers on Nantucket Island," he said, "and there was a whole crew and community of people I saw three months a year. You'd change in the other nine months, but you'd go back to that special summer place, and it would all be the same somehow." Creating a sense of community, as Duncan learns to do at his odd job at the Water Wizz park, is something Faxon did while working odd summer jobs in Nantucket. One of his jobs involved collating newspapers at the local rag, The Inquirer and Mirror, in the basement with five elderly women. "No TV, no music, just gossiping!" he laughed. (It also helped him learn to become a storyteller, he said: "Lots to draw from.")
Even though Rash has long since learned to "get out there," and has channeled his life lesson into this summer comedy, Faxon said that his creative partner still tends to retreat into his shell. "Every night in L.A., I'm telling Jim he needs to get out and come to a party," Faxon laughed.
"It's hard for me!" Rash protested. "It's like a boy in the bubble. If I had a bubble, I'd be better off."
"I'm your bubble, Jim," Faxon offered.
"He's my bubble," Rash agreed.
The Way, Way Back is in theaters now.