Watch Larry King and Snoop Lion Rap in "Dinner For Two"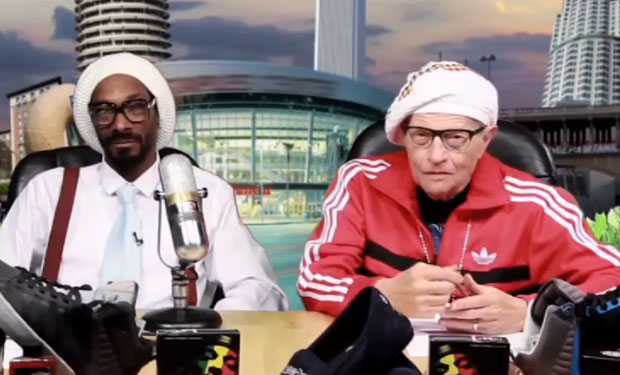 Posted by David Wolinsky on
Snoop Lion is giving rap lessons and Larry King is his star pupil.
This is the most straightforward way I know to tell you about this Internet-grade gem featuring a pairing that's likely to be as in demand as bears and salmon. It came about when King visited Snoop Lion's Tha Double Gangsta Hood News Network, which is a thing that exists.
There's very little point in describing this video I'm about to embed here for you, but here's a taste that gives a peek into their collaborative process.
Larry King: I like peanut butter. Crunchy peanut butter.

Snoop Lion: With the nuts in it?

Larry King: Yeah.

Snoop Lion: Is it Jiffy?

Larry King: It don't matter. They all taste the same.
King's apparent lack of knowledge on all things peanut butter aside, you gotta respect the man's flow. (Skip to around the 5:25 mark if you just want the song and none of the chit-chat before it.) Enjoy your Thursday, folks:
Want the latest news from IFC? Like us on Facebook and follow us on Twitter@IFC