Jeff Garlin on Improv, Little League, and Dealin' with Idiots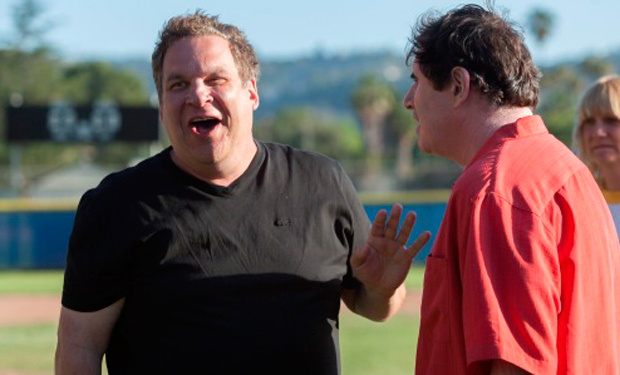 Posted by Rick Marshall on
The world of youth sports can be a stressful, challenging experience, filled with awkward social interactions and unexpected life lessons. And that's just among the parents.
In his new film, Dealin' with Idiots, veteran comedian Jeff Garlin explores the strange world of Little League — specifically, the eccentric parents, guardians, and coaches that populate the periphery of such leagues — with some help from a few friends and the real-world characters that inspired the film. The film features an impressive cast of familiar actors (including Fred Willard, Bob Odenkirk, Timothy Olyphant, Gina Gershon, and Kerri Kenney) ad-libbing their way through bizarre interactions with fictional comedian Max Morris (played by Garlin), who has made it his mission to learn what these weird people are like when they're not anywhere near a baseball field.
IFC spoke with Garlin about the film, which he starred in and directed.
IFC: So, I can probably guess the answer to this, but where did the whole idea for the movie come from?
JEFF GARLIN: Going to my son's little league games!
IFC: Were the people there really this weird?
GARLIN: They were actually worse, because they weren't funny and they had no redeeming qualities.
IFC: It seems like a good chunk of the film is improvised. Is that the case?
GARLIN: It's not a good chunk. The whole thing was improvised.
IFC: Wow. Okay, so as a director, do you find it's easy to direct a project with everyone improvising and ad-libbing? I mean, you never know what to expect from any take or what direction it will go…
GARLIN: Well, that's what I like doing. That's what I enjoy most.
IFC: Was there ever a point when you thought, "Man, I wish I had scripted something here…"?
GARLIN: There's always going to be scenes you think would've been better scripted. That's always going to happen. That happened on Curb Your Enthusiasm every couple of episodes. So maybe there were one or two things I wish I could've scripted.
IFC: I imagine there must have been some surprises during filming with the way certain elements developed. Was there anything that really surprised you as you were making the film?
GARLIN: It all surprised me, because I'm so entertained by everybody in the movie. I was surprised by everything they did and said.
IFC: The cast is fantastic. How did you connect each of the actors with the roles they played?
GARLIN: As I start writing things, I begin thinking about who would be good for what. I got only positive feedback from everybody in terms of wanting to do it, and as time wore on and we got closer to filming they said, "I want to talk to you about my character." I said, "Just do what you want and we'll adjust it there."
IFC: That's a pretty amazing amount of flexibility with the story. It seems like it would be a daunting task to make a film that's so loose and unscripted…
GARLIN: Not daunting for me.
IFC: With all of that improvising, you must have accumulated a lot of footage. How much footage did you end up with?
GARLIN: My first cut was almost two hours, but I liked making it shorter [and] making it funnier.
IFC: Did you learn anything about the Little League experience while you were making this?
GARLIN: No, I learned nothing, to be honest with you.
IFC: Huh. Okay, I expected some sort of insightful answer there about what the experience taught you…
GARLIN: Right, I know! You expect I would've learned something, but I learned nothing.
IFC: So would you recommend the Little League experience to other parents?
GARLIN: I recommend nothing. I don't know anything. I wouldn't recommend it one way or another. They'd have to be motivated on their own with that one.
IFC: So what else do you have going on these days?
GARLIN: I'm still continuing on with my podcast, By The Way. I also have a new show on ABC called The Goldbergs, and I have a documentary I'm producing called Finding Vivian Maier.
IFC: What's the documentary about?
GARLIN: It's about an unknown, but now known, street photographer.
IFC: How did you get involved with the film?
GARLIN: I read about it.
IFC: Anything more you can tell us about it? It sounds interesting…
GARLIN: It's sort of a mystery and a biography because this woman was a nanny and never put her pictures out publicly, and now that they've been discovered she's considered one of the world's most famous street photographers. But she died before all this happened.
IFC: That sounds fascinating. But before we're through here, let's change gears a bit. I feel like Curb Your Enthusiasm, which you produced and had a recurring role in, was this great product of its time and so unique. I'm not sure there's any show right now that's really filling that void, either — or even could, for that matter. Are there any shows that remind you of Curb Your Enthusiasmin some ways these days?
GARLIN: I think that you have something like Girls, for example, that's very real and interesting and different from what's going on. I also think Veep is similar to Curb Your Enthusiasm, so yeah, I think they're out there.
IFC: So, after making Dealin' With Idiots, can we expect to see on that side of the camera more often? Did you enjoy the experience?
GARLIN: I love it. It's very creative. It's very exciting. There's nothing negative about it.
Dealin' with Idiots is out in limited release now and available digitally via Amazon and iTunes. You can find out more about Jeff's current and upcoming projects at JeffGarlin.com.
Want the latest news from IFC? Like us on Facebook and follow us on Twitter @IFC