Larry David and Jon Hamm Argue in "Clear History" Trailer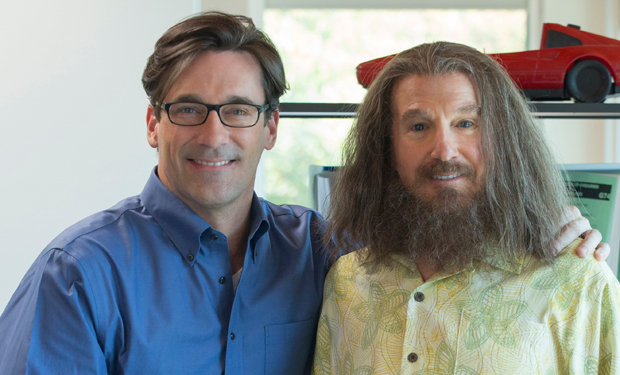 Posted by David Wolinsky on
Larry David is obsessed with the tenuous links we can have with our friends. He's made lots of money and built a fantastic reputation for himself with two household-name TV series exploring the bickering we do with our buddies, and how we not-so-secretly get jealous and feel threatened when they become more successful than us.
Which is ironic, considering how successful David has become by adapting a persona celebrating that pettiness.
This theme comes billowing out at full force in his upcoming HBO movie, "Clear History." Until recently, it was unclear what the movie's plot really was — we just saw David in a hippie beard and wig. Now that an official trailer has been released, though, it looks to be a much smarter take on the well David visited for his 1998 movie, "Sour Grapes." Like "Sour Grapes," "Clear History" explores what happens when a man sells his seeks revenge against a company that stole his idea for an environmentally friendly care. Money is involved. Lots of it. David's character walks away from shares in the aforementioned car, which, of course, goes on to become a huge success.
Fast-forward 10 years later and David tries to carry out a personal vendetta against Jon Hamm for ruining his life a decade earlier. Because, after all, revenge is a dish best served not cold, but at room temperature after it's been sitting in the room for 10 years.
"Clear History" will debut on HBO on Aug. 10, and if Hamm and David aren't big enough names for you to be interested alone, Bill Hader, Michael Keaton, Kate Hudson, Danny McBride, JB Smoove, and many others round out the cast.
Want the latest news from IFC? Like us on Facebook and follow us on Twitter @IFC