Bob Odenkirk and David Cross Reunite for September Tour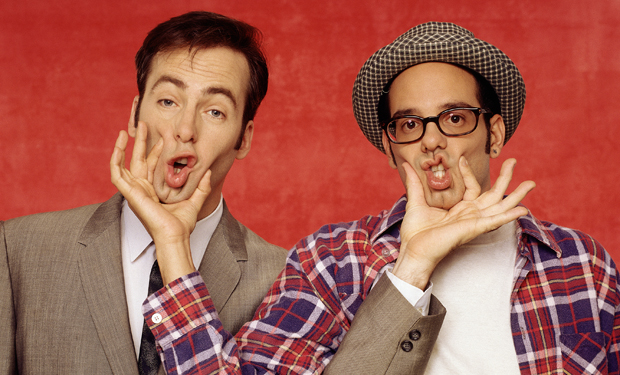 Posted by David Wolinsky on
Yes, yes you probably know that the final season of Breaking Bad will be upon us soon and that there's talk of a Saul Goodman spinoff. But did you know this fall will bring even more Odenkirk goodness?
Well, yeah, you knew that when you clicked on the headline to this post.
Okay, I'll stop being cute and get on with it: Odenkirk announced on the Comedy Bang Bang podcast that he and his Mr. Show spirit animal David Cross will be hitting the road for a few scattered dates come September in support of the pair's new book, Hollywood Said No! The book is a collection of rejected screenplays and sketches they wrote together. Beyond that, there's also talk of the Mr. Show gang reuniting in 2015 for a 20th anniversary shindig.
But here's what's coming up first in your neck of the woods (hopefully):
Thurs., 9/12 New York City (presale link)
Fri. 9/13 Boston (presale link)
Fri. 9/20 Chicago (presale link)
Fri. 9/27 San Francisco (presale link)
Sat. 9/28 Portland (presale link)
Sat. 10/19 Los Angeles (at Tenacious D's Festival Supreme, ticket link)
Here are the dates, peeps. Odenkirk tweeted that the presale password for all these shows, minus the LA one, is "Evening."
Want the latest news from IFC? Like us on Facebook and follow us on Twitter@IFC