Andy Kaufman Record Released, Nearly 30 Years After His Death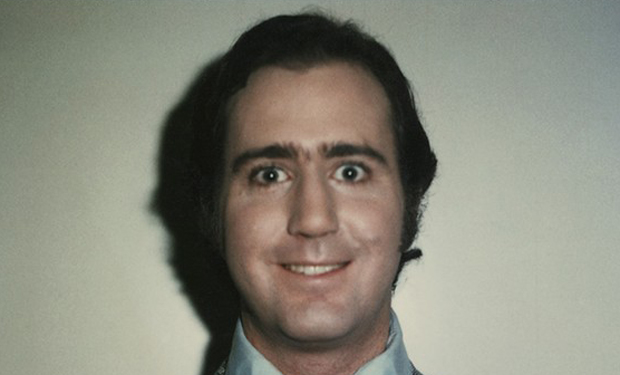 Posted by Melissa Locker on
Almost 30 years after his death, comedian Andy Kaufman has finally put out his first comedy album.
The star of Taxi and Saturday Night Live died in 1984, but Andy and his Grandmother has just been released by Drag City. The album was compiled from a bunch of mini-discs (remember those?) that were held on to by Kaufman's former partner for decades. The content on those mini-discs were edited into a record and – voila! – 30 years after his death and 35 years after it was recorded, Andy Kaufman's first comedy album has finally been released.
To help put the album together, Drag City enlisted writer, producer, and comedian Vernon Chatman (South Park, Wonder Showzen) along with editor Rodney Ascher (Room 237). Saturday Night Live star Bill Hader provides the narration and the album's liner notes come from Chatman and Kaufman's sidekick Bob Zmuda.
So why is the album called Andy and His Grandmother? We'll let Andy explain: "If people buy a record called Andy and His Grandmother, they think, 'Oh wow, Andy Kaufman made a record with his grandmother. This must be hilarious.' And they show a picture of me and my grandmother on the cover… And then they put it on, and it's just a regular conversation. And people are gonna say, 'What? What is this?' But I like to do that to people, ya know. It would be like a big practical joke."
Here's the track listing:
Andy is Making a Record
Andy and His Grandmother
Andy's Land Live
Andy Loves His Tape Recorder
Slice of Life
Andy Goes to the Movies
Kick in the Pants
Andy Can Talk to Animals
I'm Not Capable of Having a Relationship
Hookers
Andy and His Grandmother Go For a Drive
Sleep Comedy
[HONK!} vs {DOG] A
[HONK!} vs {DOG] B
Andy Goes for a Taxi Ride
Andy's English Friend Paul
I Want Those Tapes
Watch Andy Kaufman's performance on Letterman from June 24, 1980:
Want the latest news from IFC? Like us on Facebook and follow us on Twitter@IFC