Aaron Paul Reminisces About Jesse Pinkman's "Bitch" Obsession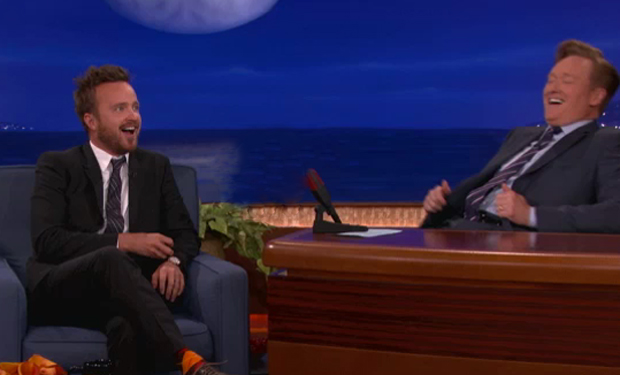 Posted by David Wolinsky on
Breaking Bad has always been, in its strange way, a comedy. No matter how dark or tense the show might get, its cast is still heavily populated by comedians and comic performers. Sure, there's Bob Odenkirk, but there's also Bill Burr, Steven Michael Quezada (Gomie's a stand-up, did you know?), Lavell Crawford (Huell is too, yup), and on and on up to and including, of course, Bryan Cranston (he had a recurring role on Seinfeld, lest you forget).
But Aaron Paul is no slouch himself. Although his character Jesse Pinkman's had one of the more twisted and gut-wrenching rides throughout the series, the actor hasn't shied away from people's adoration of Jesse Pinkman's misogynistic catch phrase. He's getting ready to close the door on saying "bitch" again publicly, and to put things into perspective on it, he went on Conan to give a short history of his relationship with the word.
You'll learn, among other things, how Paul was a preacher's son who didn't start cussing until his mid-twenties. Way to be responsible and show a modicum of restraint, bitch!
(Unrelated, you should read Conan O'Brien's prediction on how Breaking Bad will end.
Want the latest news from IFC? Like us on Facebook and follow us on Twitter @IFC