10 Adam Sandler Movies That Are Actually Hilarious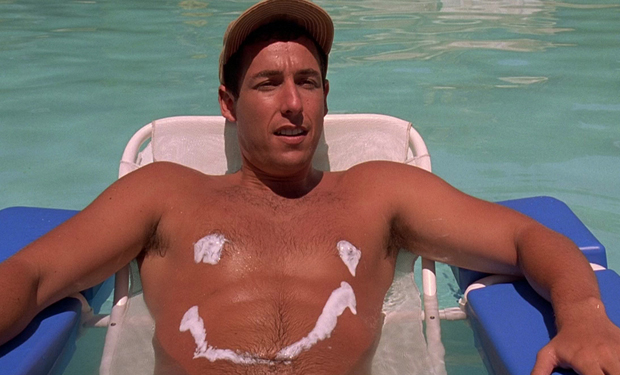 Posted by IFC on
By Evan Saathoff
We've all probably seen an Adam Sandler movie of less than stellar quality. The guy makes at least one film every year, and not all of them can be brilliant. But not all of them are total duds, either. The guy has also put out some real winners in his time. Here are his ten funniest.
1. Billy Madison
Before Adam Sandler made mainstream romantic comedies for the sake of big box office returns, he made a couple masterpieces of pure infantile absurdity. Billy Madison is the more unhinged and unwieldy of the two, but it never stops pummeling you with odd, surprising jokes. From the Penguin Billy only sees when he's drunk to the crazy lunch lady and her love of sloppy joes, this film is a classic.
---
2. Happy Gilmore
With Happy Gilmore, Adam Sandler improved upon the random weirdness of Billy Madison and delivered his absolutely best film ever. Sandler would immediately abandon much of what made this and Billy Madison so special, but their supremacy still lives on. Plus, it beat Arrested Development to the Carl Weathers punchline by almost a decade.
---
3. Big Daddy
Of all Adam Sandler's blatantly pandering family films, Big Daddy is probably the best if only because it avoids being a blatantly pandering family film right up until the third act. Watching a cute little kid act out his fantasies without parental restraint provides more comedy than you'd think, and the little kid (played by twins, of course) is cute enough to melt even the most staunch cynic's heart.
---
4. Little Nicky
Little Nicky was Adam Sandler's first real disappointment, and it's a shame because while obviously not a massive comedy slam dunk or anything, the film is too funny for its awful reputation. If you can get over Sandler's weird voice, there's a lot more to like here than people often give it credit for, particularly thanks to Quentin Tarantino's bizarre role as a repeatedly assaulted preacher. And Popeye's Chicken.