Watch Jerry Seinfeld and David Letterman in "Comedians In Cars Getting Coffee"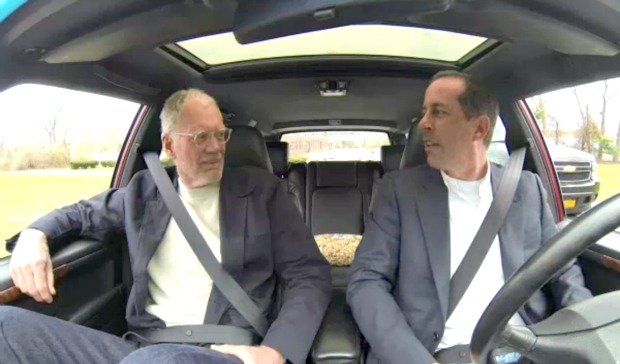 Posted by Melissa Locker on
In the latest episode of "Comedians in Cars Getting Coffee," Jerry Seinfeld web series, the comedian coaxed late night legend David Letterman into a Volvo for a rare candid conversation and, of course, a cup of coffee and some bonus kettle corn.
Unfortunately we can't embed the video, but you should definitely go here and watch, because when Seinfeld and Letterman get together it's fun just to be a fly on the wall, especially because the notoriously private Letterman rarely grants interviews. The peek behind the comic curtain alone, is worth a watch. Other highlights include the fact that the car they are driving around in is a souped-up 1995 Volvo station wagon outfitted with a 380-HP racing engine. The car was the idea of none other than Paul Newman. "I just love the car because of Paul Newman," Letterman says. "He called me one day and said, 'The guy is building me a Volvo station wagon with a racing engine, would you like one?' And because it was Paul Newman, I was a little intimidated and I said, 'Yes, I do, Paul. I'd like one of those cars.'" Letterman clearly loves the car even though the station wagon caught fire on the Merritt Parkway while Letterman was rushing to an appointment with a cardiologist.
If that doesn't encourage you to click over, how about this: Letterman recalls the time he had to follow Richard Pryor at Sunset Strip landmark The Comedy Story in the 1970s. "I kinda got friendly with Richard and really he was a dear guy," Letterman says. "He closed with a bit about having sex with a dog, and I thought, 'OK, there are many facets of genius.'" Later, Letterman does his always hilarious Leno impression while Seinfeld sits there silently. Now you're totally going to watch here.
Want the latest news from IFC? Like us on Facebook and follow us on Twitter@IFC