Watch Chuck Norris in "Missing in Action" today because Chuck Norris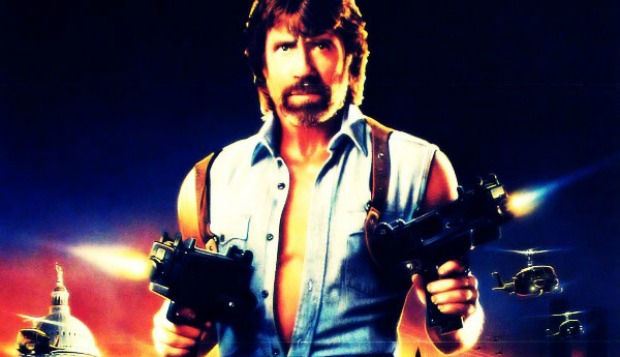 Posted by Melissa Locker on
Everyone know we love Chuck Norris more than our own flesh and blood. Why? Because Chuck Norris is freakin' awesome. Not only is he always on the side of Justice, he likes to kick bad guys in the face, and he looks damn fine in a Stetson, too. Also, once he fought a bear. Do you know anyone who has fought a bear and won? Only Chuck Norris. (Do not email us with "facts" about other bear fighters. Chuck is the only one for us!) Also, we're a little frightened of Chuck Norris (see: bear fight) and we wouldn't want him thinking that we were anything but 100% Team Chuck. Join the Chuck Norris fan club when you watch "Missing in Action" today at 3:15 p.m. ET. You know you want to watch.
While other action stars of the 70s and 80s *cough* Sylvester Stallone, Dolph Lundgren *cough* may consider themselves "Expendables" now, Chuck Norris would probably take great offense at being called expendable. And you wouldn't want Chuck Norris mad, now would you? The star of such classic action flicks as "Delta Force" and "Breaker! Breaker!" has made a name for himself as the ultimate and strangely ageless iron man. Even his appearance on Family Guy revealed his enduring toughness. You see, Chuck Norris even has another fist hidden in his beard. He's not a man for trifling. So you better watch "Missing in Action" today.
Have we mentioned that he wrestled a bear?
We rest our case.
Watch the trailer for "Missing in Action" today and then tune in for some Chuck Norris action at 3:15 p.m. ET:
Want the latest news from IFC? Like us on Facebook and follow us on Twitter@IFC
"Missing in Action" airs today at 3:15 PM ET; Wednesday, Jun. 5 at 6:00 AM ET; Wednesday, Jun. 5 at 1:15 PM ET; Thursday, Jun. 6 at 11:00 AM ET; Tuesday, Jun. 18 at 11:15 AM ET