This Week In Comedy Podcasts: WTF with Marc Maron, Comedy Bang! Bang! and Topics from Michael Ian Black and Michael Showalter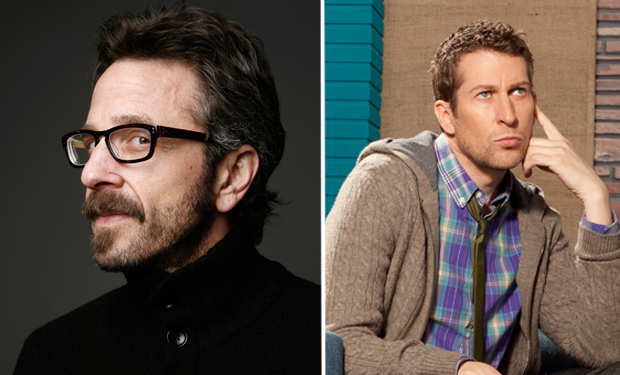 Posted by Melissa Locker on
This week on WTF, Marc Maron talked to Danny Lobell, who hosted the first comedy podcast in history. Obviously they have a lot to talk about. They compare notes and then talk about the transition in Danny's life that affected his comedy and why he feels his belief in God is at odds with the comedy world. Download here.
Then Marc talked to Kristen Schaal about her recent comedy special. She tells Marc why she deliberately constructed the most awkward television special possible, as well as how her career changed after "Flight of the Conchords," and what it means when casting directors ask for "a Kristen Schaal type." Download here. (And subscribe to WTF already.)
This week Comedy Bang! Bang! rolled out a special bonus episode recorded live at the Scottish Rite Theater in Austin, Texas with the stars of "NTSF:SD:SUV!" Martin Starr, Brandon Johnson, and depressed teen Rick Faber join Scott to talk about Martin's affiliation with the DARE organization, Brandon's porn habits and Rich's improv training. Vin Diesel's scoliosis-ridden twin brother Bill Diesel also drops by the show to share some Diesel family wisdom and promote his Vine account before the guests and Scott Aukerman throw down in a Freestyle Rap Contest for the record books! Download here.
Then Saturday Night Live's Taran Killam and Paul Brittain made their first ever Comedy Bang! Bang! appearance! They let us know what is was like being office mates at SNL, the difference between an accent & a dialect, and give us a refresher on the sci-fi action film Demolition Man. Then musicians Mark Johnson Sr. & Lon Smudge shared some of their classic dad rock tunes. Download here and Subscribe to Comedy Bang! Bang! here.
Michael Showalter and Michael Ian Black have decided to enter the comedy podcast fray with Topics. The new project from The State alums has the comedians trying to be serious for once. Although it's always a little bit hard to tell with these guys with their knack for satire and dry wit. However on the 15-minute intro, the guys explain that they "hope to have a show where, even though they are normally seen as comedians, they can have serious discussions about big topics of conversation that we all think about." They also quote Shakespeare. So if you're as intrigued by that as we are, download Topics for free in iTunes.
Want the latest news from IFC? Like us on Facebook and follow us on Twitter@IFC