This week in comedy podcasts: WTF, Comedy Bang! Bang! and Erin McGathy's This Feels Terrible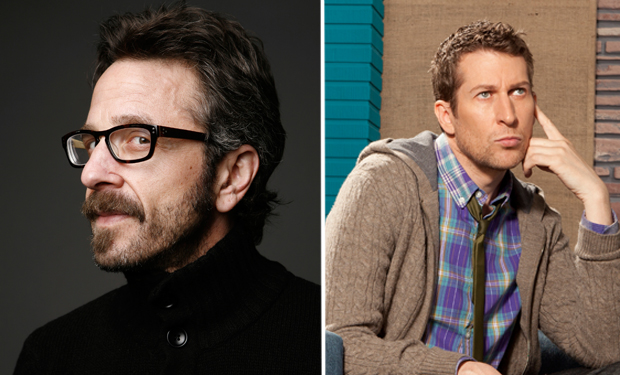 Posted by Melissa Locker on
This week on WTF, Marc Maron talks to legendary Replacements' bass player Tommy Stinson. The Replacements were a seminal indie rock band of the '80s and in the interview Tommy remembers what it was all like. Tommy tells Marc about firing his brother from the band they founded together, working with disparate lead singers from The Mats' Paul Westerberg to Guns N Roses' Axl Rose, and why he's focusing his current attention on relief efforts in Haiti. Download the episode here and watch a sneak peek here:
Earlier in the week, Marc talked to comedian, artist, designer and actor Kevin Christy. He's a man of many talents and he does all of them well. Kevin talks with Marc about juggling all of his skills, earning his acting chops in dozens of television commercials, and getting back on stage after a personal tragedy. Download the episode here and subscribe to the podcast here.
This week on Comedy Bang! Bang!, the iconic Garry Marshall (as played by Paul F Tompkins) is back with "Community" star Gillian Jacobs to deal with some unfinished business that occurred since the last time they were on the show and we're also joined by extreme adventure skier Ducky Powell who has a sweet message to share with listeners. Download the episode here and subscribe to the podcast here.
Each week on This Feels Terrible, comedian Erin McGathy interviews someone from the comedy world about their relationships past and present. Since McGathy herself isn't afraid to open up about her personal life, her guests feel safe sharing in the no-judgment environment. This week, "King Of The Nerds" star and writer Genevieve Pearson shares with Erin her relationship woes and tactics in college on how to pick up guys. Get the full episode here.
Want the latest news on "Maron"? Like the show on Facebook and follow us on Twitter@MaronIFC; Want the latest news from "Comedy Bang! Bang!"? Like them on Facebook and follow them on Twitter@comedybangbang and use the hashtag #cbbtv.
"Maron" airs on IFC on Fridays at 10/9c; "Comedy Bang! Bang!" returns to IFC on Friday, July 12 at 10/9c