Jim Carrey Turns Back on "Kick-Ass 2"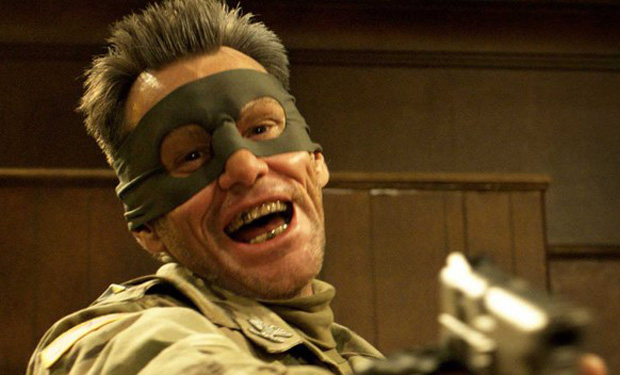 Posted by IFC on
By Evan Saathoff
Some of the biggest buzz surrounding the upcoming "Kick-Ass 2" involves Jim Carrey's turn as the psychopathic vigilante Colonel Stars and Stripes. Not only does the role see Carrey don some interesting prosthetic make up, but it sees him taking on one of his darkest most violent roles ever.
Perhaps the role was too dark, however. This weekend, Carrey took to Twitter claiming a Sandy Hook-inspired change of heart regarding the fictional violence depicted in Kick-Ass 2 and has withdrawn his support of the film.
I meant to say my apologies to others involve with the film. I am not ashamed of it but recent events have caused a change in my heart.

— Jim Carrey (@JimCarrey) June 23, 2013
I did Kickass a month b4 Sandy Hook and now in all good conscience I cannot support that level of violence. My apologies to e

— Jim Carrey (@JimCarrey) June 23, 2013
This means Carrey probably won't participate in any press interviews promoting "Kick-Ass 2," but it also all but ensures Carrey will stay within the bounds of comedy and drama for the foreseeable future.
Want the latest news from IFC? Like us on Facebook and follow us on Twitter@IFC