Comedy Calendar: Your June Movie Options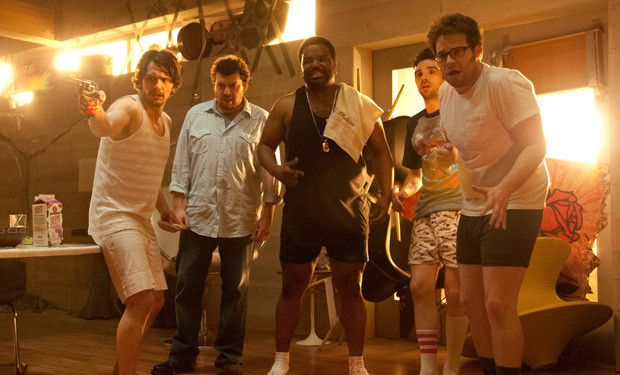 Posted by Tim Grierson on
Welcome to "Comedy Calendar," a regular column that tracks the month's most intriguing film comedies that will be coming to a theater near you.
Summer movie season means big studio blockbusters, often featuring characters with capes or guns, but it's also a time for starry comedies. June will see the arrival of much-hyped films from the likes of Melissa McCarthy and Vince Vaughn, but the art houses are making room for campy exports from Spain and a fanboy favorite's adaptation of a Bard classic. There's even something this month for the kids. Here's a rundown of this month's comedy options…
"The Internship" (June 7)
What It's About: Two downsized fortysomething salesmen try to remake themselves by landing a high-profile internship at Google, where they have to compete with a younger generation that's far more tech-savvy than they are.
Who's In It: Vince Vaughn, Owen Wilson, Rose Byrne, Aasif Mandvi.
Why You Should Care: Before the "Hangover" movies and "Ted," 2005's "Wedding Crashers" was one of the highest-grossing R-rated comedies ever. Somewhat amazingly, they never made a sequel, so "The Internship" (which is PG-13) will serve as something of a de facto follow-up for Vaughn and Wilson. No wonder the film's tagline says that the guys are "Crashing The System": Fox is going to do everything in their power to help you associate this film with that massive hit.
"Much Ado About Nothing" (June 7)
What It's About: A modern-day remake of William Shakespeare's comedy about two longtime lovers, Beatrice and Benedick, dueling over the meaning and importance of love.
Who's In It: Amy Acker, Alexis Denisof, Reed Diamond, Nathan Fillion, Clark Gregg, Fran Kranz, Sean Maher, Jillian Morgese.
Why You Should Care: Shot in black-and-white and filmed in only 12 days, this "Much Ado" boasts serious cool cachet thanks to who wrote and directed it: Joss Whedon. Featuring several cast members who have been part of Whedon's world — whether on "The Avengers" (Gregg), "Angel" (Acker) or "Firefly" (Fillion) — this adaptation has gotten strong reviews, suggesting that it's far from a self-indulgent vanity project for the cult-icon-turned-blockbuster-filmmaker.
http://youtu.be/AAMsDP_DMHE
"Syrup" (June 7)
What It's About: A young, go-getting advertising executive has to contend with professional dangers within his cutthroat industry, as well as an office romance with a fellow shark.
Who's In It: Shiloh Fernandez, Amber Heard, Kellan Lutz, Brittany Snow.
Why You Should Care: "Syrup," which is already available on iTunes, is based on Max Barry's well-reviewed 1999 novel, a satire of the marketing world that's especially timely in the age of "Mad Men."
"This Is the End" (June 12)
What It's About: A group of friends in Los Angeles go to a big bash at James Franco's place. It would be an amazing night if not for the fact that the apocalypse starts raging outside.
Who's In It: Just about every hip comic actor you can name, including Jonah Hill, Danny McBride, Jay Baruchel, Craig Robinson, Mindy Kaling, Michael Cera and Seth Rogen, who co-wrote and co-directed the film. Oh, and Franco's also in it.
Why You Should Care: "This Is the End" sports a funny premise, and with its R rating, it looks to be the month's most gleefully out-there film. And considering that cast, the movie feels like the "Avengers" of summer comedies.
"Monsters University" (June 21)
What It's About: A prequel to "Monsters, Inc.," "Monsters University" takes us back to when Mike and Sulley first met while in college.
Who's In It: Reprising their roles are voice actors Billy Crystal, John Goodman and Steve Buscemi.
Why You Should Care: Pixar remains one of the more reliable Hollywood brands out there, although their recent films ("Cars 2" and "Brave") have been among their weakest. Can "Monsters University" reverse that trend? The answer may depend on how much you love "Monsters, Inc." — and how much you've been craving a movie that showed the characters in their younger years.
"The Heat" (June 28)
What It's About: A by-the-book FBI agent and an out-of-control police detective must join forces to beat the bad guys and crack wise.
Who's In It: Sandra Bullock as the FBI agent. Melissa McCarthy as the detective. Also, Tony Hale, Taran Killam, Kaitlin Olson and Marlon Wayans.
Why You Should Care: "The Heat" is the follow-up film from Paul Feig, the director of "Bridesmaids," which helped launch McCarthy, who snagged an Oscar nomination in the process. She and Bullock are probably the most bankable female comic stars at the moment, and this "Lethal Weapon"-but-with-women movie has potential.
"I'm So Excited!" (June 28)
What It's About: When a plane bound for Mexico starts to develop mechanical issues midair, the crew and passengers must band together to avert disaster.
Who's In It: Javier Camara, Carlos Areces, Raul Arevalo and, in cameos, Antonio Banderas and Penelope Cruz. But the movie's real star is its director, Pedro Almodóvar.
Why You Should Care: An Oscar-winner who in the last decade has become one of the industry's most honored and recognizable international filmmakers, Almodóvar takes a break from kinky dramas ("Bad Education" and "The Skin I Live In") and touching dramas ("All About My Mother" and "Talk to Her") to return to his camp roots for what looks like a very silly, very fabulous romp.
You can follow Tim Grierson on Twitter.