Seinfeld's "Comedians in Cars Getting Coffee" New Season Boasts Big Stars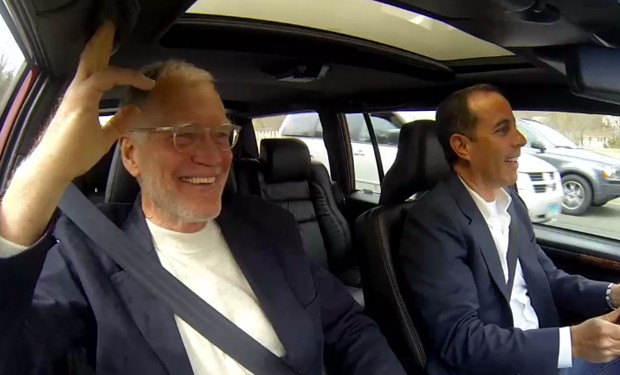 Posted by David Wolinsky on
Jerry Seinfeld's web series "Comedians in Cars Getting Coffee" is coming back for a second season, which is great news for comedy fans who also love comedians, cars, and watching other people drink caffeinated beverages. It will start airing next week on Crackle, and if the just-released trailer is any indication, it seems the stakes for the show are much, much higher this go around.
No, there's no plot. This is still Jerry Seinfeld, a man who famously made his millions (billions? trillions? dillions?) from a show about nothing, and his web series reflects that. Each episode is like this: Seinfeld drives one of his cars around and talks about it, then he picks up a comedian and they talk about the car and some other topic, and then finally they go somewhere and eat and kibbutz. That's it. It may not sound like much or even all that particularly interesting, but if you're a comedy fan, it's something you so rarely get to see of comedians: them acting like normal people. True, they are flinging bits at each other non-stop, but that's, well, how comedians really are.
This season, though, the guests are arguably bigger. Among them are Chris Rock, Don Rickles, Seth Meyers, David Letterman (who, based on this trailer, still thinks "monkey" is the funniest word), and Sarah Silverman. And as far as stakes, it looks like he gets pulled over by the cops in the Chris Rock episode. Did they get stopped for an autograph? Will we ever find out what the deal is with airplane peanuts?
What comedians do you think Jerry Seinfeld should interview? Tell us in the comments below or on Facebook and Twitter.