5 Comedies That Make the Apocalypse Seem Funny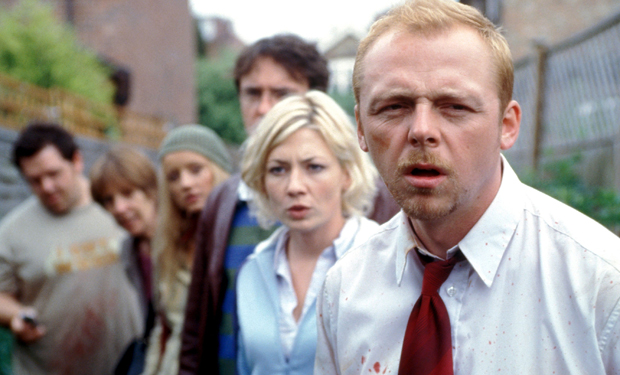 Posted by Tim Grierson on
The apocalypse is no laughing matter. Whether it's a zombie uprising, nuclear holocaust or just good ol' fashioned fire and brimstone, the end of the world conjures up horrific images and queasy dread. Unless, of course, you're making fun of the whole damn thing. Today sees the release of "This Is the End," a comedy from writer-directors Seth Rogen and Evan Goldberg that stars Rogen and his pals Jonah Hill and James Franco as themselves as they square off with demons and destruction. It's that rare funny film about the end of the world, but it's not the only one. Here are five noteworthy examples of movies that took a sardonic look at the Rapture. If the end is nigh, we might as well have a few laughs before we go.
1. "Ghostbusters" (1984)
The most quotable comedy of the 1980s deftly balances humor and supernatural horror for a story about a bunch of down-on-their-luck scientists who come up with the technology to capture the pesky ghosts that are bothering New York City. But no amount of wisecracks and Proton Packs may be enough to stop Zuul and his legions from bringing about the end of the world. Some of the special effects may not look as sharp as they did 30 years ago, but the jokes haven't aged a bit.
---
2. "Shaun of the Dead" (2004)
This zombie comedy helped put director Edgar Wright and star Simon Pegg on the cultural radar, lavishing equal care on the gore and the laughs. From its great opening joke — Pegg's British hometown is so devoid of excitement that at first he doesn't even notice that there are zombies springing up everywhere — "Shaun of the Dead" expertly creates an emotional through-line that gives the humor an unexpected heft.
---
3. "Zombieland" (2009)
Usually, the rise of zombies brings with it panic and unrest. But what happens after the initial massacre? That's where "Zombieland" comes in, imagining a scenario where a group of scrappy survivors (including Woody Harrelson and Jesse Eisenberg) try to make peace with their bleak new reality. Hip and witty, the movie could be interpreted as a response to post-9/11 life, where people have become sadly used to living in a world of constant anxiety. Or you could just sit back and enjoy the Bill Murray cameo. (And let's take a moment to tip our cap to other zombie comedies like "Warm Bodies" and "Fido.")
---
4. "It's a Disaster" (2013)
Probably the movie on this list that's most similar to "This Is the End" in its design, "It's a Disaster" is an under-the-radar indie comedy about a group of friends who have a regular brunch on Sundays. But social niceties and relationship anxiety (in the form of a new-ish couple played by David Cross and Julia Stiles) soon give way once it becomes clear that the apocalypse might be right outside the house where they're all hanging out.
---
5. "Dr. Strangelove or: How I Learned to Stop Worrying and Love the Bomb" (1964)
Arguably the most beloved of all black comedies, director Stanley Kubrick's satire of the Cold War arms race might have lost a smidge of its timeliness because the threat of World War III isn't as rampant now as it was when this movie was made. (We can be thankful for that.) But if the film no longer works as a perfect puncturing of current events, it remains superb because of how it skewers the widespread paranoia and mistrust that exists between rival nations and the arrogance of our military leaders — realities that, sadly, haven't diminished in 50 years. A very funny film — and still one of the darkest endings ever. (And dig this original trailer.)
You can follow Tim Grierson on Twitter.