Zach Galifianakis shaved people's heads on "The Chris Gethard Show," and we were there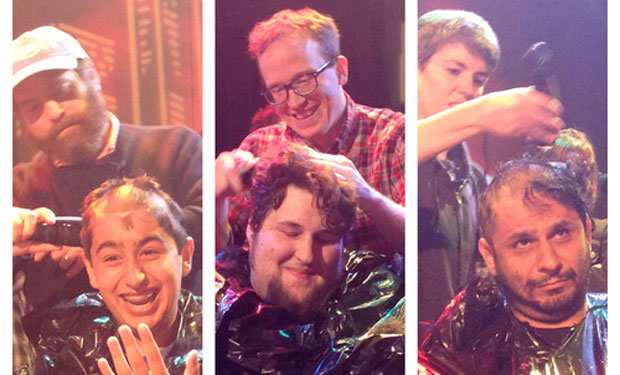 Posted by Jenny McCoy on
Have you ever watched Zach Galifianakis shave a stranger's head while an audience sings "Silent Night?" Those of us who merely attended "The Chris Gethard Show" last night will now live the rest of our lives trying to squeeze this memory into as many conversations as possible.
This is a photo of Zach Galifianakis cutting a stranger's hair.
This audience member volunteered, declaring, "F*ck it! Why not!" And in just 10-15 minutes, Zach was able to help this young woman turn that fleeting, carefree moment of spontaneity into a very noticeable part of her appearance for the foreseeable future.
After watching Zach do work on a couple lucky sets of locks, this guide should help you decide, should you ever have the option, whether or not Zach is the right hair stylist for you:
DO let Zach Galifianakis cut your hair if you'd like to be able to tell people that Zach Galifianakis cut your hair.
DON'T let Zach Galifianakis cut your hair if you like your hairstyle or other hairstyles you see other people wearing sometimes.
There were many more highlights throughout the evening, but few can top this exchange between Chris and Zach:
"You were hosting 'SNL' on Saturday and now you're here. Would you call this a drop off?" – Chris
"Yes." – Zach
Don't worry, though, the drop off was quick-lived, as evidenced by Zach's memorable visit to the "Today Show" this morning.
Would you let Zach Galifianakis shave your hair? Tell us in the comments section below or on Facebook and Twitter.