Zach Galifianakis brings formerly homeless woman as a date to "Hangover 3" premiere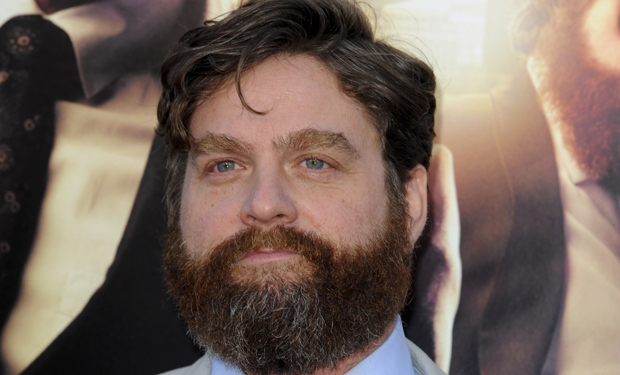 Posted by Terri Schwartz on
When Zach Galifianakis brought former homeless woman Elizabeth "Mimi" Haist with him to the premiere of "The Hangover: Part III," it wasn't as some sort of weird joke. Instead, the former laundrywoman has been an important part of his life for nearly two decades.
Galifianakis first met Haist when he moved to Los Angeles in 1994. Then an unknown comedian, Galifianakis would come to Fox Laundry to clean his clothes. Haist worked for tips at the laundrymat, and the two soon became close.
About two years ago, Galifianakis learned that Haist was homeless and living with different friends. He then proceeded to find her a one bedroom, one bathroom Santa Monica apartment and paid her rent and utilities to help her get by, rescuing her from a life of homelessness. The 87-year-old has been an important part of Galifianakis' life since, as she also acted as his plus one for the premieres of "The Hangover: Part II" and "The Campaign."
"I'm looking forward to it, I like the excitement of it," Haist told The New York Daily News prior to attending "The Hangover: Part III" Los Angeles premiere on May 20. "If he's in town, he takes me. Otherwise he lets me take a friend. I dress up nice and a friend helps me with my makeup. It's fun, not something I've ever dreamed I'd experience. The limo takes me home afterwards."
"The Hangover: Part III" reunites Bradley Cooper, Galifianakis, Ed Helms, Justin Bartha, Ken Jeong, Jeffrey Tambor, Jamie Chung, Sasha Barrese, Heather Graham and Gillian Vigman, while introducing new actors like John Goodman and Melissa McCarthy to the franchise as well. "The Hangover Part II" is due in theaters on May 24, 2013. The logline for the movie reads, "This time, there's no wedding. No bachelor party. What could go wrong, right? But when the Wolfpack hits the road, all bets are off."
What is your response to learning the story behind Galifianakis' "The Hangover: Part III" date? Tell us in the comments section below or on Facebook and Twitter.