WTF Would Maron Say?: Week 4 Challenge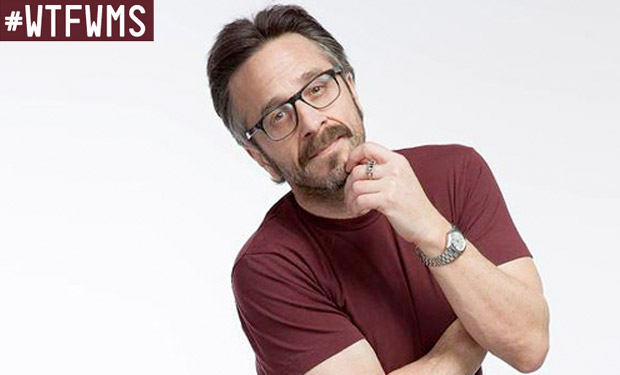 Posted by Jenny McCoy on
Did you hear? We're giving Marc Maron fans a chance to win a trip for two to see Marc perform and meet him in person. And on top of that, we're giving away ten copies of his new book, "Attempting Normal," each week.
All Maron fans have to do is tell us… WTF Would Maron Say? Each week, we will share a new topic and ask fans following @MaronIFC to tweet us what they think Marc would say about the topic, tagging their response with #WTFWMS. Then we will pick our favorites, turning the best tweets/ comments into beautiful pictures for the "Maron" Facebook page.
Last week we asked Maron fans to tell us… WTF Would Maron Say on Mother's Day? The results? Nothing short of amazing. It was tough, but we picked ten of our favorite responses. See all ten winning entries here.
Do you do a great Marc Maron impersonation? Have you listened to every episode of WTF and think you know how Marc would respond to any situation? Do you think you know WTF Maron would say? Here's your new challenge:
WTF Would Maron Say… about cats dressed up like sushi? Take a look below and read more about these confused little cats here.

READ THE RULES HERE and follow along on Twitter@IFC to participate.
Want the latest news on "Maron"? Like the show on Facebook and follow us on Twitter@IFC
"Maron" airs on IFC on Fridays at 10/9c