William Shatner and Billy Dee Williams pitch J.J. Abrams "Star Wars" ideas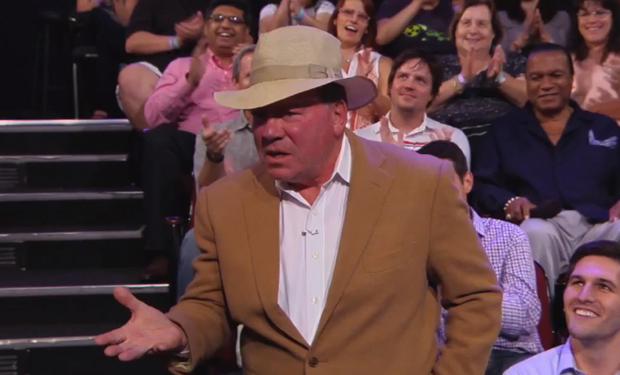 Posted by Terri Schwartz on
If there's one thing the fans want from J.J. Abrams' upcoming "Star Wars: Episode VII," it's Princess Leia and Chewbacca having sex. At least, that's what Jimmy Kimmel wants us to believe.
Kimmel had Abrams on "Jimmy Kimmel Live" to promote the release of "Star Trek Into Darkness," but couldn't resist talking about "Star Wars." He also couldn't resist inviting two famous guests on the show: Billy Dee Williams and William Shatner. Watch the magic unfold below:
Of course, Abrams did talk about "Star Wars: Episode VII" as well.
"It's obviously very early days," he said. "We're working on the story. We just don't want to screw it up. We're trying to figure it out right now. That's kind of where we are."
If Chewy and Leia end up hooking up, at least we now know why. "Star Wars: Episode VII" is slated for a summer 2015 release, with "Episode VIII" coming out in summer 2017 and "Episode IX" hitting theaters in summer 2019. Meanwhile, two "Star Wars" spinoffs will come out in the summers between them, with one hitting theaters in 2016 and the other in 2018. "Star Trek Into Darkness" is due in theaters on May 17.
What would you like to see in the new "Star Wars" movie? Tell us in the comments section below or on Facebook and Twitter.