Watch the new "Between Two Ferns," directed and produced by Scott Aukerman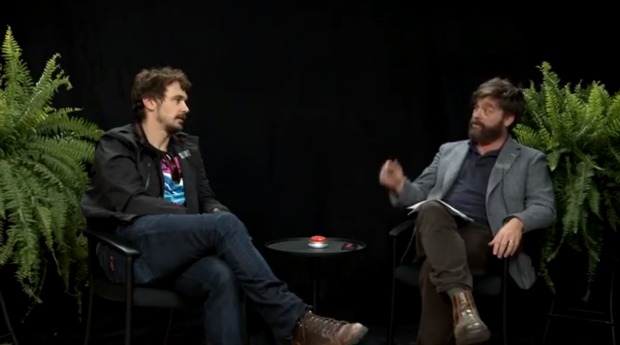 Posted by Melissa Locker on
Everyone's favorite fake-rap group the Lonely Island announced that next month (June 11, specifically) they will release their third LP, "The Wack Album." The album will include a few tracks that have already debuted as SNL Digital Shorts, including "YOLO" featuring Kendrick Lamar, as well as contributions from such music luminaries as Solange, Pharrell Williams, T-Pain, and Green Day's Billie Joe Armstrong.
The trio aka Andy Samberg, Jorma Taccone, and Akiva Schaffer also announced a new YouTube series, "Wack Wednesdays", which will feature new music and videos every Wednesday leading up to the album's release. The first installment dropped today and it's a winner. The video starts out in a familiar format: as an episode of "Between Two Ferns", Zach Galifianakis' fake talk show (produced by "Comedy Bang! Bang!'s" Scott Aukerman). In the video, Galifianakis interviews "Spring Breakers" star James Franco. "Of all the art projects you've done, what has made people roll their eyes the hardest?" he asks before things get busy in a "Spring Break Anthem."
Check out the new video below and stay tuned for more Wack Wednesdays. Also stay tuned for our interview with Scott Aukerman, where he discusses the latest "Between Two Ferns" episode, "Comedy Bang! Bang!" and more!
Want the latest news from IFC? Like us on Facebook and follow us on Twitter@IFC