Watch J.J. Abrams and Simon Pegg talk about "Star Wars"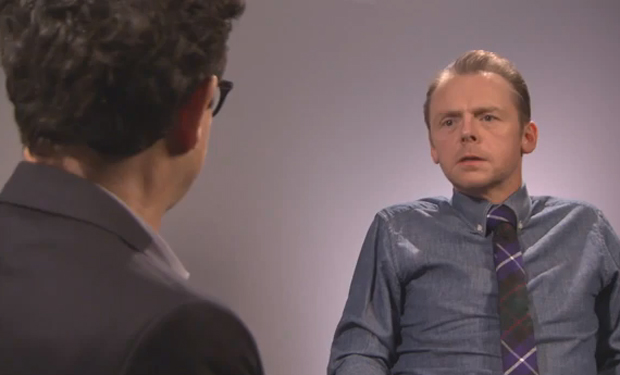 Posted by Terri Schwartz on
Simon Pegg is a huge "Star Wars" fan. So is J.J. Abrams. Both men have worked together on Abrams' "Star Trek" franchise. Abrams is directing the upcoming "Star Wars: Episode VII." That's why it was a brilliant move on Sky Movies' part to bring the two fans and friends together to talk about "Star Wars."
Unfortunately there aren't any "Episode VII" tidbits to be had in the above video unless you count Pegg's claim that Abrams is calling the film "The Further Adventures of Jar Jar Binks" (note: he's not). Still, it's definitely intriguing to hear these two super fans talk about something they grew up loving, especially since Abrams will soon be giving his own spin on the series.
"It's so strange to remember before it was something we were born knowing about," Abrams said. "When I first saw it I was 11 and it was impossible. It was this expansive possibility was there of storytelling. It was a modern day myth. That was my thing. Meanwhile with 'Star Trek' I had friends who loved it. I tried. I'd sit and watch episodes and try to find my way in and for some reason I think because it was a more philosophical debate-driven show — I loved the action 'Star Wars,' and 'Trek' didn't really have that."
Abrams further reinforced the fact that he thinks the approaches to "Star Wars" and "Star Trek" are different. "The history of it, the tone of it, the approach of it, the feel, the themes of it, feel incredibly different to me 'Star Wars' to 'Star Trek,'" he said. Interestingly, he added that he found the fact that he wasn't a huge "Trek" fan something that made working on those projects easir.
"I feel like that was always a little bit of something to fall back on, a safety net, not being a fan because it forced questions about what we were doing. It couldn't just be acceptable because it existed and I loved it because I was a fan," he said. "I think part of the challenge moving forward with anything you come to sort of pre-loving … you have to force yourself to start over and not assume anyone's going to care."
"Star Wars: Episode VII" is due in theaters in summer 2013, while "Star Trek Into Darkness" comes out May 17.
What did you think of the above video? Tell us in the comments section below or on Facebook and Twitter.