This week in comedy podcasts: WTF, Comedy Bang! Bang! and Sklarbro Country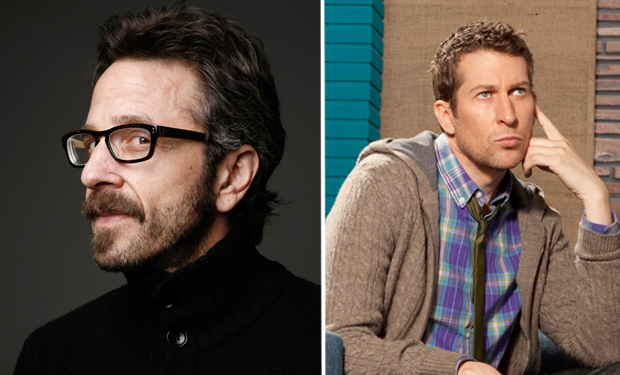 Posted by Melissa Locker on
This week on Marc Maron's WTF podcast, Marc talked to American rock icon John Fogerty, who is not slowing down. But in the midst of releasing his latest album, he gets the WTF treatment. John talks with Marc about the origins of Creedence Clearwater Revival, the genesis of some of his most famous songs and the reason he found peace after decades of acrimony over the handling of CCR's music. Listen to an excerpt here and then download the full episode here:
On Thursday, Marc talked to Phil Hendrie, who has been behind a microphone for forty years. Marc invited the radio iconoclast to share the microphones at The Cat Ranch to discuss the changing nature of radio, the future of podcasting, Rush Limbaugh, Howard Stern, and the secrets behind the on-air magic tricks Phil uses to create his show.
Watch this clip now while you are downloading the episode here:
Over on Sklarbro Country, which is also on Earwolf Podcasting Network, the incredible improviser/comedic actor Seth Morris stops to explain to Randy and Jason why he quit playing basketball in 9th grade, his experience working on the show "Go On," how taking classes lead him to start a the sketch comedy group "The Naked Babies" alongside John Ross Bowie, Brian Huskey, and Rob Corddry, and the craziest story someone shared at the improvised Facebook show at UCB-LA.
Watch now and download here:
On Comedy Bang! Bang! this week, "Community" star Gillian Jacobs stops by, along with Paul F. Tompkins, and Mike Hanford for a high-spirited get-together with host Scott Aukerman and his funny friends. Watch now and subscribe to the podcast here:
Want the latest news from Comedy Bang! Bang!? Like them on Facebook and follow them on Twitter@comedybangbang and use the hashtag #cbbtv. Want the latest news on "Maron"? Like the show on Facebook and follow us on Twitter@MaronIFC
"Maron" airs on IFC on Fridays at 10/9c; "Comedy Bang! Bang!" returns to IFC on Friday, July 12 at 10/9c