This week in comedy podcasts: WTF, Comedy Bang! Bang! and In Conversation with Jeff Garlin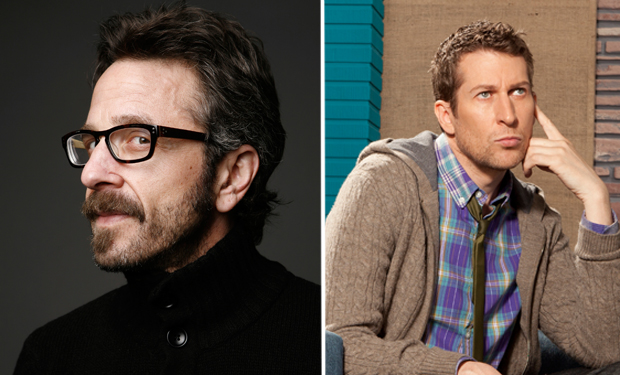 Posted by Melissa Locker on
On Monday on WTF, Marc Maron talked to director Noah Baumbach about his latest movie, "Frances Ha," which touched a real nerve with Marc, as did Noah's other films like "The Squid and the Whale," "Greenberg" and "Margot at the Wedding." They talked about why Noah's movies cut so close to the bone, plus Noah discussed what it's like to collaborate with Wes Anderson. Download here. On Thursday, Marc traveled to the home of Sam Simon, co-creator of a little show called "The Simpsons," who was also worked as the producer/show-runner on 'Taxi," and was the facilitator of countless television projects. They talked about Sam's cancer diagnosis and what has changed in his life since finding out. Marc and Sam also discuss weed, vegetarianism, whales, poker, Groucho, Elvis, money and the meaning of it all. It's a conversation for the ages. Download the conversation here and subscribe to WTF here.
Over on Comedy Bang! Bang!, the crew is recreating a momentous recording that occurred in the Earwolf studios two years ago. Now, all the participants have returned to recreate the magic. Adam Scott, Harris Wittels, and Chelsea Peretti are all on board for the Farts & Procreation threequel! Prepared to be mesmerized by the Farts Crew. Download here.
On In Conversation with Jeff Garlin, "Mad Men" creator Matthew Weiner sat down with Jeff to talk about a post-Jeopardy winning encounter with Alex Trebek, how "Groundhog Day" played a major inspiration to him to continue to write, and being kicked in the butt by an actor who was on a sitcom he wrote for. Also, he reveals who "the one guy" his wife believed to be the funniest person she'd ever met in her life other than him. Download here.
Want the latest news from IFC? Like us on Facebook and follow us on Twitter@IFC