This week in comedy podcasts: Marc Maron heads to Comedy Bang! Bang! and does a live WTF from Vancouver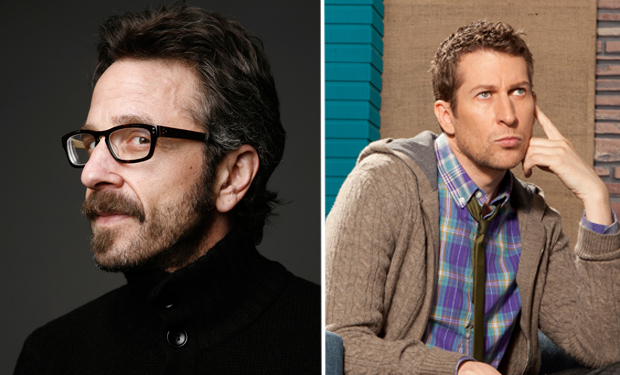 Posted by Melissa Locker on
As Marc Maron gets ready for the premiere of "Maron" tomorrow night at 10/9c, he still made time to put out three different WTF podcasts this week. Is that guy great or what? On Monday, he talked to Hank Azaria, who lends his voice and talent to many of the most beloved Simpsons characters. Azaria lends Marc some valuable advice about becoming a dad later in life and about finding productive ways to deal with professional setbacks. Download that here.
Yesterday, Marc was in Vancouver and produced a live WTF there and Margaret Cho surprised him with a much more revealing story than he expected. Also on hand were Andy Kindler, who let everyone in on his joke-writing process, Carmen Lynch who described getting comedy training at The Learning Annex, Brendon Walsh who has trouble with pat downs and Matt Braunger unleashed the rage monster that lurks beneath his mild temperament. Download that here. Then head back to wtfpod.com tomorrow to download Marc's interview with Huey Lewis. Yes, THAT Huey Lewis.
Over on Comedy Bang! Bang! guess who the guest is? That's right: Marc Maron. Scott Aukerman and Marc have an incredible one on one, getting into the actors pain on a special Thursday episode of Comedy Bing Bong! Marc tells us what we can expect on his new show "Maron," takes us through his past TV deals, and shares what advice he would give to a younger Marc Maron. Will things get deep enough to make Marc shed tears? Download to find out!
Want the latest news on "Maron"? Like the show on Facebook and follow us on Twitter@MaronIFC
Want the latest news from Comedy Bang! Bang!? Like them on Facebook and follow them on Twitter@comedybangbang and use the hashtag #cbbtv.
"Maron" premieres on IFC on Friday, May 3 at 10/9c; Comedy Bang! Bang! returns to IFC this summer