"This Is The End" clips foreshadow trouble in James Franco's house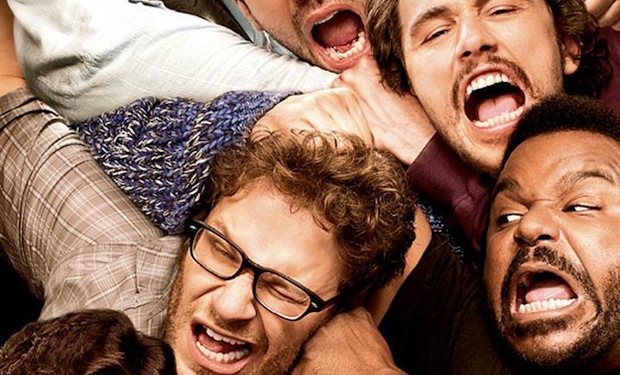 Posted by Terri Schwartz on
Seth Rogen and Evan Goldberg's directorial debut "This Is The End" recently screened to a group of Los Angeles film critics, and the response to the movie was overwhelmingly positive. Considering it's sounded like a fantastic movie since the adaptation of "Jay and Seth vs. the Apocalypse" was first announced, that response seems like a big endorsement for the upcoming comedy.
With that in mind, check out these two new clips for the upcoming film. The first, above, shows Rogen, Jay Baruchel, James Franco, Jonah Hill and Craig Robinson taking inventory of the food, weapons and drugs they have in Franco's house. Things get a bit messy when Franco starts playing with his working, loaded revolver that he stole from the set of "Flyboys." It's pretty hilarious.
Then there is a clip where Rogen and Baruchel record confessionals on the camera Franco stole from the set of "127 Hours." Hopefully this actually ends up being a part of the movie, because the "Real World"-style confessionals are a nice comedic touch.
"This Is the End" is the directorial debut of Seth Rogen and Evan Goldberg. In addition to those already listed, the movie stars Emma Watson, Paul Rudd, Mindy Kaling, Christopher Mintz-Plasse, Martin Starr, Kevin Hart and David Krumholtz. It's due in theaters on June 12.
Are you looking forward to "This Is The End"? Tell us in the comments section below or on Facebook and Twitter.