"The World's End" gets a new poster before trailer reveal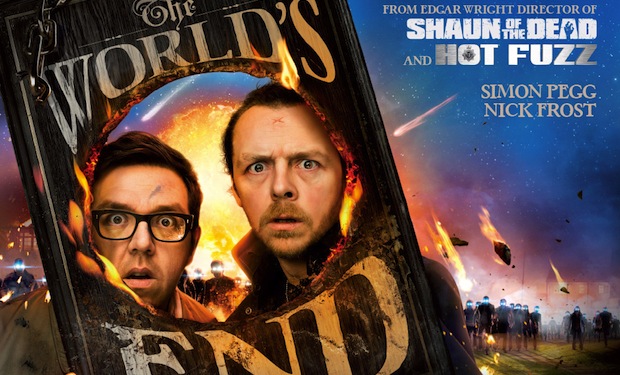 Posted by Terri Schwartz on
Edgar Wright's "The World's End" is hands down one of our most anticipated films of 2013. The spiritual sequel to "Shaun of the Dead" and "Hot Fuzz" stars Wright regulars Simon Pegg and Nick Frost and serves as the conclusion to the trio's "Blood and Ice Cream" trilogy.
Like the previous two movies, "The World's End" is much more than meets the eye. Though it's about a group of five friends who reunite to go on a pub crawl, their plans get majorly changed when an apocalyptic event occurs.
So far all we've had to go on about the film is some pictures and a too-brief tease in a video about summer movies. Fortunately a trailer for the film is one the way later this week, which will hopefully satiate our desire to know everything about this movie — at least, for a while. In anticipation of that exciting event, Pegg has released a new poster for the movie on his Twitter account.
"To celebrate World's End teaser trailer week, here's the brand new official teaser poster. This is not a tease," he tweeted.
Hopefully we aren't alone in assuming that those men with the glowing eyes are aliens. It would seem like the natural progression for this series, which started with a movie about zombies. "The World's End" is due in theaters on August 23 just in time for Halloween. Here's the official synopsis:
20 years after attempting an epic pub crawl, five childhood friends reunite when one of them becomes hellbent on trying the drinking marathon again. They are convinced to stage an encore by Gary King (Simon Pegg), a 40-year-old man trapped at the cigarette end of his teens, who drags his reluctant pals to their hometown and once again attempts to reach the fabled pub – The World's End. As they attempt to reconcile the past and present, they realize the real struggle is for the future, not just theirs but humankind's. Reaching The World's End is the least of their worries.

What do you think of this poster? Are you excited for "The World's End"? Tell us in the comments section below or on Facebook and Twitter.