The 10 worst moms in movies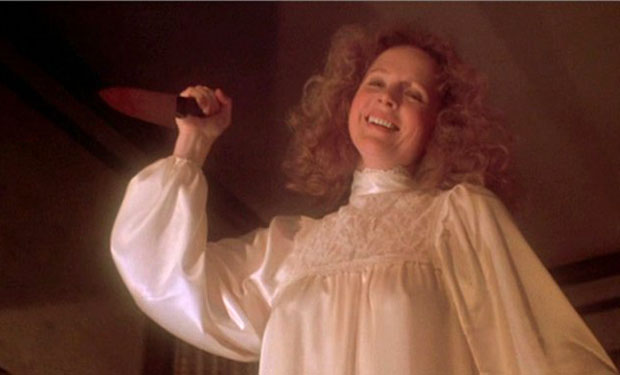 Posted by Bryan Enk on
You'll probably be calling your mom to tell her that you love her on Mother's Day. Maybe some of these movie moms wouldn't have been so bad if their kids had told them that more often. Then again, it's hard to imagine anyone — offspring or otherwise — expressing anything resembling affection to these matriarchal monsters. This year, show your love even more by thanking your mom that she's not one of the unfortunate parents below.
---
10. Mrs. Wilson, "Natural Born Killers" (1994)
The mother of future notorious mass murderer Mallory Knox deserves points for trying to keep a cheery attitude even as her disgusting, belligerent husband Ed (Rodney Dangerfield) poisons the suburban Wilson household with his foul-mouthed rage and stain-covered wife-beaters. But she must ultimately be charged with extreme negligence for choosing to quietly suffer rather than interfere every time her husband sexually abuses their daughter. "You didn't do nothin'," Mallory says to her mother after her soon-to-be-husband and partner-in-crime Mickey Knox ties Mrs. Wilson to a bed and douses her with lighter fluid. Thusly, Mallory's Mom goes up in flames for being an accomplice through inaction.
---
9. Other Mother, "Coraline" (2009)
True, Coraline's "Other" parents are fun and cheerful and give their daughter a lot more freedom than her "real" folks, but they ultimately show their true colors (of which there are many, actually) when they reveal the price that must be paid for choosing to stay in this "Other" world: having buttons sewn onto your eyeballs, using a needle "that's so sharp, you won't feel a thing!" Young Coraline vehemently protests this radical re-design of her peepers, of course, which makes her "Other" parents — particularly her usually doting, sweet "Other Mother" — rather angry. Like, homicidally so. Like, maybe it's time for our heroine to get back to reality, and pronto.
---
8. The Woman, "The Road" (2009)
There are many ways in which one can deal with the end of civilization as we know it. You can hold onto your humanity and practice compassion and kindness, like The Boy (Kodi Smit-McPhee). You can become fiercely protective yet uncompromising and suspicious, like The Man (Viggo Mortensen). Or you can just fall into selfish despair and completely abandon your family, like The Woman (Charlize Theron). The key is to not lose hope or the will to live when everything else is literally burning up around you, but this mother would seemingly rather leap into the chaos (and certain death) than stay and hold her ground with her husband and son. Thanks a lot, Mom — now Dad has to worry about finding food and a decent pair of shoes for the little twerp all by himself.
---
7. Esther Cobblepot, "Batman Returns" (1992)
Tucker and Esther Cobblepot were a wealthy and well-to-do Gotham City couple, peers of the billionaire surgeon and philathropist Thomas Wayne and his wife, Martha. Fate dealt them a Joker card, however, when the heir to their legacy turned out to be a freak mutant baby with an inhuman appetite for cats. Filled with despair and shame, they tossed young Oswald Chesterfield Cobblepot into the sewer, where the unfortunate child ended up being raised by penguins and carnival freaks and later emerged as the Penguin, a deformed criminal mastermind with a plan to murder all of Gotham's first-born sons. Oswald sums it up after visiting his parents' graves: "I was their number-one son … but they treated me like number two."
---
6. Momma Lift, "Throw Momma From the Train" (1987)
Momma Lift isn't so bad … at least on paper. Sure, the character as written in Stu Silver's screenplay, which borrows heavily from Alfred Hitchcock's "Strangers on a Train," is belligerent, nagging and high-maintenance. But is she so horrible as to drive her put-upon son, Owen (Danny DeVito), to want to kill her? Nah. However, when you cast Anne Ramsay — the woman who played Mama Fratelli, the truly frightening and dangerous crime matriarch in "The Goonies" — in the role, well, then Momma Lift transcends the page and becomes a much more loathsome creature, the true stuff of Oedipal nightmares and murderous fantasies. Ramsay's also in on the joke the whole time, which makes her performance — and character — even more brilliant and unforgettable. "Owennnnn!!"