Steve Carell dances on "Ellen" as "Despicable Me"'s Gru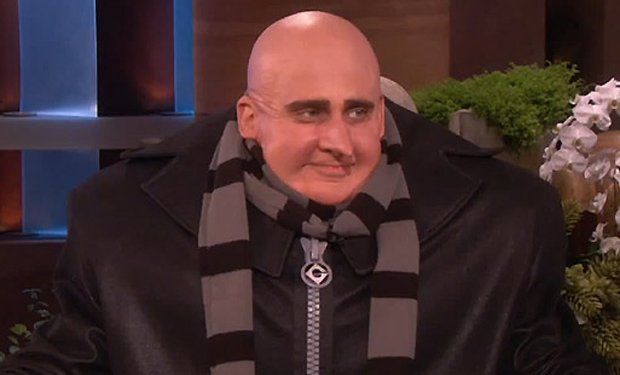 Posted by David Wolinsky on
With the expectation of him ever re-emerging as Michael Scott now gone along with "The Office," Steve Carell, on an "Ellen" appearance that he's still more than capable of being over-the-top and goofy: by showing up as his "Despicable Me 2" character, Gru. (The movie's due out July 3.) For those of you who aren't familiar with "Despicable Me" or Gru, just know this: It's a computer-animated 3D family comedy wherein Carell's character is a scorned super-villain who becomes a big softie and then eventually goes on "Ellen" apparently.
Carell donned a bald wig, a robe with oversized shoulder pads, and a stylish scarf to embody the role on "Ellen." Gru was ecstatic to be on television, and after sharing that he and Ellen had actually met once before (he stood behind her in line at a Starbucks), he indulged in some of that fine dancing Ellen sure loves to do on her program. He strutted through the audience, and then just as suddenly as he arrived, his disappeared.
Check it out:
Are you excited to see "Despicable Me 2"? Tell us in the comments below or on Facebook and Twitter.