Stefon and Seth Meyers live happily ever after in Bill Hader's final "Saturday Night Live" episode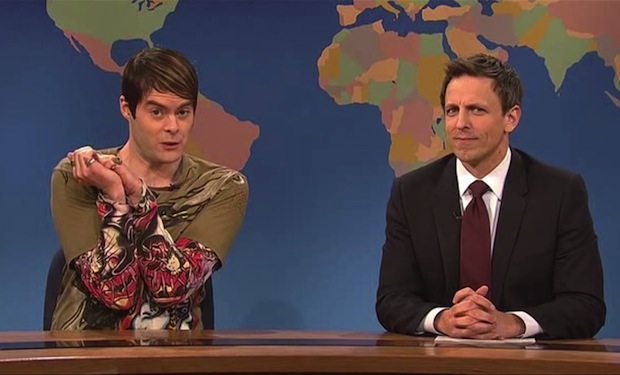 Posted by Terri Schwartz on
"Saturday Night Live" staple Stefon fittingly had his big send off when Ben Affleck acted as the 2013 season finale's host. The character was first introduced during Affleck's 2008 appearance on the show, and was given his last hurrah during Bill Hader's final "Saturday Night Live" episode on May 19.
This installment of the recurring sketch evolves from the original Stefon premise into a hilarious video that shows Stefon and Seth Meyers finally getting together after years of will they/won't they tension. When Stefon says that he has found someone who loves him for who he really is — someone who ends up being Anderson Cooper — Meyers goes to him and interrupts their wedding. The wedding, of course, is attended by every strange club-going person Stefon ever mentioned, including human parking cones and DJ Baby Bok Choy. Stefon's love for Meyers overwhelms him, and the couple runs away together. Seriously, it's amazing.
Up next Hader is reportedly considering a role in the indie comedy "Lawless." It's reportedly about "a high school reunion committee chairman in Middle America, still searching for acceptance, who has to do whatever it takes to get the most popular guy from high school to show up to their 20th reunion. Unfortunately, that guy is now an actor in commercials, so the committee chairman flies to L.A. and finds himself in the arcane world of celebrities." The film is expected start shooting in Atlanta over the summer.
Of course, if Hader ever decides to star in a "Stefon" feature film with Meyers, we'd also absolutely support him in that endeavor. Congratulations, Seth and Stefon Meyers!
What did you think of Stefon's big sendoff? Tell us in the comments section below or on Facebook and Twitter.