Seth Meyers named Jimmy Fallon's "Late Night" successor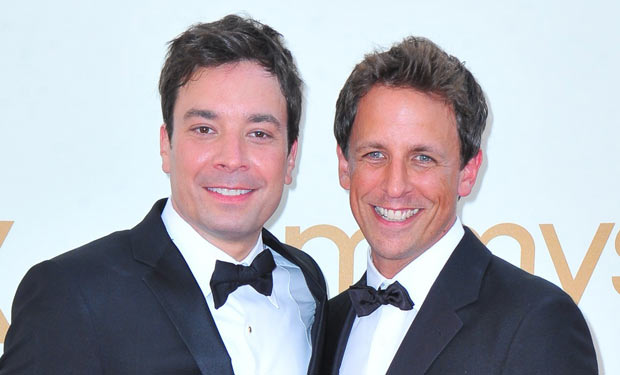 Posted by David Wolinsky on
The long-simmering debate about who will be taking over "Late Night" is finally over: "SNL" alum Jimmy Fallon will be handing the baton to "SNL" head writer and Weekend Update anchor Seth Meyers. In retrospect, this absolutely makes sense and, truly, who else would NBC have considered for the spot?
Fallon has come a long way since playing Nick Burns, your company's computer guy and snickering his way through sketches on live television to, yes, helming the freakin' "Tonight Show" next year.
Meyers is a natural, given that he's personally responsible for "SNL's" most topical material. Regardless of whether you feel Weekend Update is still relevant in a post-"Daily Show" and "Colbert Report" world, all you need to do is imagine Meyers asking, "Have you heard about this?" before any of his WU stories, and, boom, instant monologue!
Additionally, Meyers has been with "SNL" since 2001 and has maintained a rather aggressive stand-up schedule given that he's "SNL's" top writer. The announcement here also explains why Meyers has been doing so much more stand-up this year, perhaps to get more into shape as he was being groomed for the spot. (He's also got some dates coming up this summer, if you're so inclined.)
So, now the question is: Who will replace Meyers for WU? My money's on former "SNL" bandleader G.E. Smith, assuming it doesn't interfere too much with his new gig as bandleader for the GOP.
Do you think Seth Meyers will make a good "Late Night" host? Tell us in the comments below or on Facebook and Twitter.