Ron Perlman on getting girlie for "Frankie Go Boom" and his hedonistic "Pacific Rim" character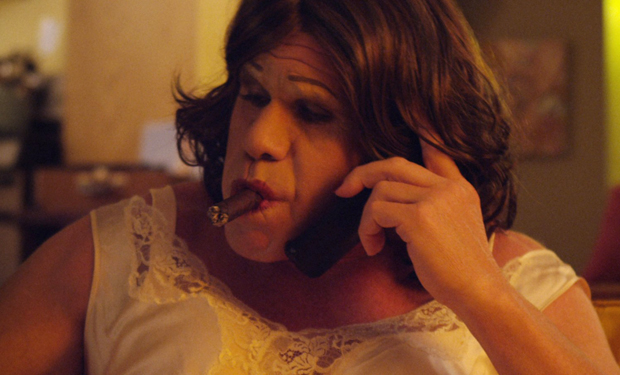 Posted by Rick Marshall on
Every now and then, a supporting role comes along that has the potential to be one of the most memorable parts of a film. "Pulp Fiction" had Christopher Walken's watch-hiding former prisoner of war, "Tropic Thunder" had Tom Cruise's slimy studio exec, and any movie in which Bill Murray had a supporting role had, well… whatever role Murray played.
"Frankie Go Boom," the new comedy from "Around the Bend" director Jordan Roberts, has a transsexual computer hacker played by Ron Perlman.
Yes, you read that correctly.
The film stars Perlman's "Sons of Anarchy" and "Pacific Rim" cast mate Charlie Hunnam as Frankie, a struggling writer who's been pranked, ridiculed, and otherwise tormented by his brother, Bruce (Chris O'Dowd), throughout his entire life. When Bruce secretly records Frankie's embarrassing one-night stand with the daughter of a crazy, gun-toting former celebrity (Chris Noth), the prank puts both of them in crosshairs when the tape ends up online. Their only hope to avoid catching a bullet – and saving Frankie's relationship with the girl (Lizzy Caplan) – may lie with Phyllis (Perlman), an expert hacker who recently began life as a woman.
IFC spoke with Perlman about his gender-bending part in the hilarious "Frankie Go Boom," as well as his role in Guillermo Del Toro's "Pacific Rim," which also stars Hunnam.
IFC: This is one of those times when the old question "How did you get connected with this project?" probably has a great story, so…
RON PERLMAN: [Laughs] Well, this was Charlie Hunnam's summer project one year between seasons of "Sons of Anarchy." He gave me a call and said, "The director would like to know if you'd consider doing this." I read the script looking at another character, but I got to the point where Phyllis enters the film and sticks his/her hand in… You know what? I don't even know how to refer to Phyllis at this point. You'd think I'd know by now… But he/she sticks her hand in Frankie's face. And the gesture of having Jax Teller [Hunnam's character in "Sons of Anarchy"] kiss the hand of Clay Morrow [Perlman's "Sons" character] in that scene, and the image of that in my twisted imagination, it was delicious enough for me to pursue the idea of making it a reality. So I looked at my to-do list and it said, "Take out the garbage," "Repair the sink," and "Play a woman." So it was one of those things I could cross off the list.
IFC: How did you go about getting into character? Did you get any tips on how to play a woman?
PERLMAN: I just let it wash over me. The fact of the matter is, I had just finished making the movie "Drive," and I think I finished at 3:30 in the morning and then went to work at 7AM to do my one day on "Frankie Go Boom." So I knew I wouldn't have much time to do anything but learn the lines, but I was going to have hours of getting various body parts shaved, waxing the old eyebrows, trying on the wig, figuring out which bosom is going to look best in a particular ensemble, and so forth… So hopefully by the end of that process and the time that I had to dwell on it, a starlet would be born.
IFC: Did you have any input on Phyllis' wardrobe or makeup or anything?
PERLMAN: The makeup portion I had no input on. I just sat there absolutely delighted to watch it happen. The girls who designed the costumes, they were phenomenal people, and they were all basically working for free because it was such a low-budget film. They found so much glee in presenting these choices to me: the clothes, the wig, the nail polish color, the shoes, the bra, what went into the bra, what came out of the bra, etc. It was just a lot of fun. I'm probably the ugliest woman of all time at the end of the day, no matter how many hours you spend caring for all these decisions. I mean, seriously – I could haunt a house. We weren't looking to replace Tony Curtis in "Some Like It Hot," is what I'm saying. We had to take what god had given me, which was not much.
IFC: This seems like one of those films in which everyone was ad-libbing all the time and doing all sorts of things that would make it hard not to crack up in the middle of a scene…
PERLMAN: [Laughs] Yeah, it was very difficult. I had never met Chris O'Dowd before this, but I had seen his work and was a huge fan of his. So I shook his hand when I met him and introduced myself. I said,"Hi, Chris. It's very nice to meet you. Can I ask you a question?" And he said, "Sure. Anything, Ron." And you have to imagine him saying that in this beautiful Irish brogue. So I said, "Would you mind if, when you walk through the door in this scene, I kiss you right on the mouth?" You could just see him wanting to say, "Yes. Yes, I would mind." Every fibre in his being was telling him to say, "Please, please don't do that, Ron." But he was such a gentleman that he said, "Well, if that's what you feel like you really need to do, I guess you can…" And I said, "Good. Thanks!" before he had time to reconsider.
IFC: And that was your first conversation with him?
PERLMAN: Yeah, I've never broken the ice like that before, and hopefully never again. [Laughs]
IFC: So it seems like you and Charlie Hunnam are in everything together these days. Is this an intentional thing, or just one of those weird convergences in Hollywood?
PERLMAN: Yeah, we're going to be making "On The Road To West Hollywood" next together. I'm going to do a little standup, he's going to do a little singing. We're going to be the new Hope and Crosby of the 21st century. [Laughs]
IFC: I would watch that.
PERLMAN: [Laughs] Well, thank you. But really, it's just one thing leading to another. You get in these circles and then somehow can't find your way out. [Laughs] The whole thing with Guillermo Del Toro falling in love with Charlie and putting him in "Pacific Rim" was highly coincidental. Charlie had made "Children of Men" with Alfonso Cuaron, and Cuaron is Del Toro's best friend. Alfonso had great things to say about Charlie, and Guillermo was looking for a way to work with Charlie for a long time, and it just so happened that when "Pacific Rim" came up it was the perfect opportunity for them to collide. And Guillermo has made a promise to both the world and me – and I don't think he cares what the world thinks, but I'm never going to let him out of it – that whenever he makes a movie in English, Ron Perlman will be in it. I'm sure one day that string is going to end, but he found a way to put me in "Pacific Rim," so there you have it.
IFC: We haven't seen much of you in the "Pacific Rim" trailers so far, so what can you tell us about Hannibal Chau, your character in the film?
PERLMAN: If you give it some thought and think about the idea of an unwieldy Jew from Brooklyn named Hannibal Chau, you'll probably come to the conclusion that he's full of shit. And sure enough, he won't disappoint you. He's completely full of shit. He's a man of immense appetites – a hedonist. He likes money a lot and he'll do anything for it. The situation in the movie has made him a kind of war profiteer. He has an arrangement with the government whereby he has the rights to harvest and reap the benefits of fallen kaiju [massive alien creatures] remains. So he's doing the government a service by removing these things' bodies, but he's doing himself a service by breaking them down and using them for various purposes in the name of vanity. For instance, he sells kaiju bone powder for $500 a pound, because it's supposedly 150 times more potent than viagra.
IFC: What else is coming up for you?
PERLMAN: We just started shooting the new season of "Sons of Anarchy" yesterday, so that will keep me busy for the next five months. I'm also launching my own indie film company. We're about to announce a co-production with another production entity to do five movies with them. The first movie we do on our own will be one I'm directing called "Wooden Lake." It's in the process of casting, and that will all be announced in the next couple of months. I'll start shooting that the minute "Sons" comes down in November.
"Frankie Go Boom" is available now on DVD and Blu-Ray, and stars Charlie Hunnam, Chris O'Dowd, Chris Noth, Lizzy Caplan, and Ron Perlman. The film is written and directed by Jordan Roberts.